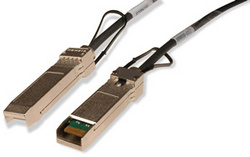 These same cables support serial single lane applications, such as RapidIO, RocketIO and other value-added IO interface links
Watertown, Connecticut (Vocus) February 10, 2010
Siemon, a leading global manufacturer of IT network cabling and infrastructure systems, announces the release of their new high-performance 10+Gb/s SFP+ Passive Copper cabling product family. These SFP+ copper cable assemblies were developed as a cost-effective and lower-power alternative to optical cables for short reach links in high-speed interconnect applications such as high-performance computing (HPC), enterprise networking and network storage systems. The low latency assemblies support data transfer rates up to 10+ Gb/s per lane, exceeding the stringent electrical SFF-8431 and mechanical SFF-8432 Standards Specifications. For more information on Siemon's SFP+ Passive Copper assemblies, visit http://www.siemon.com/is/
Siemon's hot pluggable SFP+ cable assemblies are fully-shielded with robust die cast housings and enhanced spring fingers to minimize EMI leakage. The internal PCB assembly is factory terminated to twin-axial shielded cable and provides superior signal integrity to support 10+Gb/s high frequency data rates. The assemblies are impedance matched to ensure interoperability with SFP+ host port and minimize insertion loss.
The new 10+Gb/s SFP+ products support a wide array of data protocols/interfaces, including 8Gb/s FibreChannel HCA, 10Gb/s FibreChannel SAN, 10Gb/s FibreChannel over Ethernet, 10Gb/s Ethernet single lane, 10Gb/s InfiniBand QDR single lane and various 10Gb/s Unified Architecture network links as well as other 10Gb/s Switch and Host Controller Adapter card and high performance links.
"These same cables support serial single lane applications, such as RapidIO, RocketIO and other value-added IO interface links," said Ed Cady, Business Development Manager for Siemon.
Product options available include varied EEPROM programming, wire gauges and assembly lengths for specific applications.
About Siemon:
Established in 1903, Siemon (http://www.siemon.com) is a global industry leader in the development and manufacture of high quality, high-performance network cabling solutions. Siemon's Interconnect Solutions business unit (SIS) specializes in the development of high-speed interconnects. Headquartered in Watertown, Connecticut, USA, Siemon operates directly in over 30 countries and, through its channels, services customers in over 100 countries. Siemon offers a comprehensive suite of copper and optical fiber cabling systems. With over 400 active patents, Siemon Labs invests heavily in R&D and is actively involved with numerous industry standards organizations around the world.
http://www.siemon.com/is
http://www.siemon.com
###