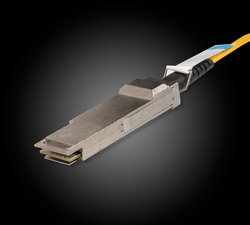 Watertown, CT (Vocus) July 1, 2010
Siemon, a leading global manufacturer of IT cabling infrastructure systems today introduced its new line of four lane QSFP+ 40Gb/s active optical cabling assemblies, designed to support interconnect applications such as high-performance computing (HPC), enterprise networking and network storage systems. These high-speed interconnects are a part of Siemon's Moray™ Active Optical Cabling (AOC) product family and expand Siemon's extensive portfolio of copper and fiber data center cabling solutions. To learn more about Siemon's Moray QSFP+ active optical assemblies visit: http://www.siemon.com/sis/
The Moray QSFP+ active optical cable assemblies incorporate the lowest power transceiver in the market that typically requires 780mw by utilizing Silicon CMOS Photonics technology, which features an integrated opto-electronic chip with a directly attached fiber and a micro-packaged laser. This "Fiber-to-the-Chip" technology enables Siemon's Moray active optical cabling to break the cost barriers while decreasing the number of components in the AOC and improving its reliability when compared with existing vertical-cavity surface-emitting laser (VCSEL) and multi-mode fiber solutions. Unlike traditional optics that utilize VCSELs and multi-mode fiber for short connections, Moray's single chip transceivers support any distance from 1 meter to 4,000 meters for inter- and intra-building applications.
The Moray line offers high performance and extended reach optical interconnects at lower-cost than legacy multimode fiber, providing an additional option for high-speed data center connectivity. These single-mode active optical cable assemblies will overcome the technical challenges of legacy technologies to support Ethernet, FibreChannel SAN Storage, InfiniBand systems and several other IO interface links between various blades, boxes, racks, containers and buildings.
The market continues to demand higher bandwidth products and the future Moray product family is poised to support next-generation optical interconnect products for 40Gb/s and 100Gbps applications.
The Moray product is available in custom length options ranging from 1-4000m. EPROM programming options are also available.
About Siemon:
Established in 1903, Siemon (http://www.siemon.com) is a global industry leader in the development and manufacture of high quality, high-performance network cabling solutions. Siemon's Interconnect Solutions business unit (SIS) specializes in the development of high-speed interconnects. Headquartered in Watertown, Connecticut, USA, Siemon operates directly in over 30 countries and, through its channels, services customers in over 100 countries. Siemon offers a comprehensive suite of copper and optical fiber cabling systems. With over 400 patents, Siemon Labs invests heavily in R&D and is actively involved with numerous industry standards organizations around the world.
http://www.siemon.com/is
http://www.siemon.com
Media Contact:
Brian Duval
MarCom Manager
Siemon
101 Siemon Company Drive
Watertown, CT 06795
Ph: 860-945-4380
Product Information Contact:
Tom Pike
Product Manager
Siemon Interconnect Solutions
Ph: 860-945-8499
###