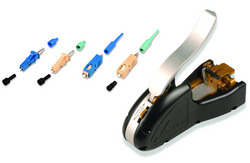 Watertown, CT (Vocus) August 13, 2009
Siemon is proud to introduce its new XLR8 mechanical splice connector and termination system for fiber optic cabling. The XLR8 system incorporates an exclusive dual-process activation tool which dramatically reduces termination time per connector. The combination of the XLR8 tool and Siemon's new pre-polished XLR8 mechanical splice LC and SC connectors drives the deployment of high-performance fiber links with unsurpassed termination speed and quality.
To maximize termination speed and connector performance, Siemon's XLR8 system was designed from the ground up to reduce the termination process to a single optimized and intuitive step. The process combines splicing and crimping into a single step as opposed to more common multi-step products. The simplified XLR8 design cuts termination times in half compared to competing systems, enabling faster and more efficient delivery of fiber cabling links. The reduction in steps also limits excess operator handling of connections during termination that can negatively impact splice integrity and link performance.
To further enhance connector performance, the entire XLR8 termination process is completed with the connector dust-cap in place, protecting the fiber's critical end-face polish from contamination or damage. No other fiber termination method currently available offers this simple, yet highly effective feature. The connector's pre-polished end-face remains untouched and clean from the factory to the time of insertion into the adapter. This optimizes both reliability and mated performance.
The XLR8 tool is universal - capable of terminating either SC or LC interfaces with no time-consuming tooling changeovers required. Ergonomically optimized for use in handheld or table-top orientation, it ensures full splice and crimp engagement using a locking mechanism that secures the connector in place until the tool is fully cycled. The tool is available in a complete kit that contains all accessories required for high performance terminations, including a user-friendly fiber cleaver designed to provide clean, precision cleaves on an array of fiber types.
XLR8 LC and SC connectors support the multimode and singlemode versions of Siemon's 10 Gb/s XGLO® and Gigabit-ready LightSystem® solutions and exceed TIA standards for optical performance and fiber retention strength. For more information on Siemon's innovative XLR8 fiber optic mechanical splice connector system, including termination video and specification sheets, visit http://www.siemon.com/us/xlr8.
Video instructions are available at: http://www.siemon.com/share/video/instructions/09-03-03_xlr8-termination/09-03-03_xlr8-termination-view.asp
About Siemon:
Established in 1903, Siemon is an industry leader specializing in the manufacture and innovation of high quality, high-performance network cabling solutions. Headquartered in Connecticut, USA, with global offices, manufacturing and service partners throughout the world, Siemon offers the most comprehensive suite of copper (unshielded and shielded twisted-pair) category 5e, category 6 (Class E), category 6A (Class EA) and category 7/7A (Class F/FA), and multimode and singlemode optical fiber cabling systems available. With over 400 active patents specific to structured cabling, from patch cords to patch panels, Siemon Labs invests heavily in R&D and development of industry standards, underlining the company's long-term commitment to its customers and the industry.
Contact:
Brian Duval
MarCom Manager
Siemon
860-945-4380
101 Siemon Company Drive
Watertown, CT 06795
###