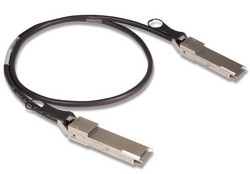 Watertown, CT (Vocus) September 20, 2010
Siemon, a leading global manufacturer of IT network cabling and infrastructure systems, today announced that its passive copper QSFP+ (Quad Small Form-factor Pluggable Plus) high speed interconnect products have been tested and accepted by the InfiniBand Trade Association (IBTA) as compliant to the InfiniBand Architecture Specification.
Siemon Interconnect Solutions QSFP+ Passive Copper Cable assemblies were developed for high-density applications, offering a cost-effective, low-power option for high-speed data center interconnects up to 10 meters depending on wire gage and IO interface usage. Ideal for server blade to box, rack-to-rack and shelf-to-shelf interconnects as well as high-speed networking and storage equipment applications, the QSFP+ form factor can replace up to four standard SFP+ connections, providing greater density and reduced system cost.
By passing the rigorous IBTA testing, Siemon's QSFP+ assemblies are now included on IBTA's Integrators' List, which is designed to support data center managers, CIOs and other IT professionals with deployment of InfiniBand systems. End users and OEMs frequently check the IBTA Integrators' List prior to the deployment of InfiniBand solutions, including small and large computing clusters, to ensure product compliance with the InfiniBand architecture specification as well as interoperability with other InfiniBand products.
Twelve variants of Siemon's copper QSFP+ cable assemblies in various gages and lengths are certified on the IBTA's Integrators' List as being compliant to 10G per lane QDR data rates. The current IBTA Integrators' List is available at http://www.infinibandta.org/content/pages.php?pg=integrators_list_overview
Interoperable with compliant SFF-8436 interfaces, Siemon's QSFP+ copper interconnects are also fully compatible with a wide array of data protocols/interfaces, including Ethernet 10G, 40G (IEEE-802.3ba) and SONET. They also support Fibre Channel 10G, 40G SAN; FCoE, RapidIO and Myrinet 40G systems links.
This interconnect is part of the Siemon's high speed connectivity products that include Moray QSFP Active Optical Cable assemblies and MTP Plug and Play solutions as well as a comprehensive range of innovative copper and optical fiber structured cabling products..
Learn more about Siemon's high-speed interconnect products at: http://www.siemon.com/sis
Follow Siemon Interconnect Solutions on Twitter: http://twitter.com/siemonis/
Join Siemon on Facebook: http://www.siemon.com/go/facebook
Join our blog at http://www.siemon.com/sis/blog
About Siemon:
Established in 1903, Siemon (http://www.siemon.com) is a global industry leader in the development and manufacture of high quality, high-performance network cabling solutions. Siemon's Interconnect Solutions business unit (SIS) specializes in the development of high-speed interconnects. Headquartered in Watertown, Connecticut, USA, Siemon operates directly in over 30 countries and, through its channels, services customers in over 100 countries. Siemon offers a comprehensive suite of copper and optical fiber cabling systems. With over 400 patents, Siemon Labs invests heavily in R&D and is actively involved with numerous industry standards organizations around the world.
http://www.siemon.com/sis
http://www.siemon.com
Media Contact:
Brian Duval
MarCom Manager
Siemon
101 Siemon Company Drive
Watertown, CT 06795
Ph: 860-945-4380
E: brian_duval(at)siemon(dot)com
Product Information Contact:
Tom Pike
Product Manager
Siemon Interconnect Solutions
Ph: 860-945-8499
E: tom_pike(at)siemon(dot)com
###