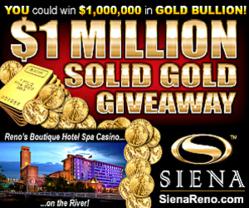 Reno, NV (PRWEB) February 26, 2013
On Sunday April, 28th, casino anticipation will be at an all-time high as people gather to watch one lucky guest roll the dice for $1,000,000 at the Siena Hotel Spa Casino in Reno, NV. The Siena has amplified the excitement of their 2nd Year Anniversary with their $1,000,000 Solid Gold Giveaway!
Reno's latest success story, the Siena, is celebrating another outstanding year as Reno's New Gold Standard by awarding winners in solid gold. Fifty-two drawings will be held throughout March and April leading up to the Grand Finale Drawing on Sunday, April 28th. Gold coins will be awarded at each drawing and the lucky winner will have their chance to roll the dice and upgrade their gold coin to a one ounce gold coin valued at $2,000. Guests can qualify for the Grand Finale Drawing and their chance to be a lucky winner of $1,000,000 in Solid Gold Bullion by being selected as a winner during one of the drawings or by earning 25,000 points or more based on their play during March and April. One lucky guest will be randomly selected to have the chance to roll two pairs of snake eyes for the $1,000,000 Gold Bullion!
"Our second year has been a year of tremendous growth for the property. As we enter our third year we continue to be very excited about the future" said Scott Short, Director of Business Development. "We are always striving to provide our guests with a Gold Standard experience. What a better way than to reward them with actual gold!"
The family owned Siena Hotel Spa Casino welcomes everyone to join the celebration of their 2nd Anniversary. Earn entry tickets all through March and April for a chance to roll the dice for $1,000,000 in solid gold bullion! Reno's Only Boutique Hotel Spa Casino on the River is proud to bring Reno a New Gold Standard in hotel accommodations and casino excitement!
# # #
The Siena Hotel Spa Casino reopened on April 21, 2011 with completely remodeled rooms, restaurants, a world class spa and casino. The Siena sits where the historic Holiday casino once graced the banks of the Truckee River in beautiful downtown Reno adjacent to the National Automobile Museum and the Pioneer Theater. For more information on the Siena Hotel Spa Casino either phone 877-743-6233 or visit their website at http://www.SienaReno.com