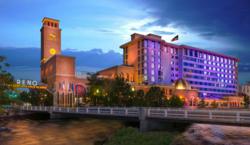 Reno, NV (PRWEB) April 23, 2013
The family owned Siena Hotel Spa Casino in Reno, Nevada welcomes everyone to join in the 2nd Anniversary celebration April 27 & April 28. Throughout March and April players have been accumulating entry tickets for the drawing, where one lucky person will have the chance to roll the dice for a life changing $1,000,000.00 in Solid Gold Bullion. The staff at the Siena invite all to take advantage of the many Anniversary Specials offered April at Reno's only Four Star Boutique Hotel Spa Casino located right on the Truckee River.
Aside from the roll for the $1,000,000.00 in Solid Gold, the Siena is ensuring that all who visit have a reason to celebrate with their 2nd Anniversary Specials. All weekend, guests can enjoy $22 manicures and $22 pedicures at the luxurious Spa at Siena. Dining specials include a free dessert to accompany any entrée purchase and on Sunday all restaurants will be offering 22% discount. Da Vinci, the Siena's fine dining on the river, has created the perfect $22 three course masterpiece that include first course soup or salad, second course choices of NY Strip, Blackened Salmon, or Chicken Penne Xavier; and a dessert choice of Crème brulee or Kahlua mousse cake. Join us by raising a drink with the Siena on Sunday to celebrate another year; all beer, house wine and well drinks will be $2. Souvenir shot glass will be complimentary with all $2 kamikazes purchased.
"This next coming weekend will prove to be a great celebration for the Siena, our employees, our customers and for our family! Two years ago we decided to reopen the Siena in a whole new light from our beautiful remodel of our casino floor, to our incredible restaurants and rooms. We have worked hard to create a great destination resort, and to provide the best gambling and player's specials. We are excited to watch the roll of the dice and look forward to our future serving our community" Stated Eric Colvin spokesperson for the Siena.
###
The new Siena Hotel Spa Casino, which reopened in 2011, is Reno's only riverfront 4 STAR hotel casino. This boutique resort features newly remodeled rooms and suites, 3 signature restaurants, a world class spa and upscale casino. For more information on the Siena Hotel Spa Casino either phone 877-743-6233 or visit their website at http://www.SienaReno.com.