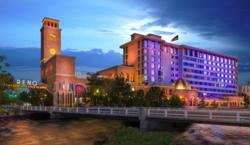 Reno, NV (PRWEB) May 15, 2013
The Siena Hotel Spa Casino in Reno, is giving guests the opportunity to triple their paycheck with the Siena's Paycheck Payday$ promotion. Guests that cash their paycheck at the Siena will have the opportunity to win fabulous prizes including free play, food credits, and even the chance to double or triple their paycheck up to $3,000.00 by spinning the new Paycheck Payday$ Wheel. Every Paycheck Payday$ spin is a winner. On the very first day of the new promotion there were already two lucky winners that doubled their Paychecks.
Shortly after the wheel rolled onto the casino floor, yet another local resident, Rebecca Oliver doubled her paycheck. "I was on my way to work and stopped in to cash my paycheck, I spun the wheel and instantly doubled my check," Oliver said. "I can't wait to cash my next paycheck at the Siena"
The Siena Hotel Spa Casino is best known as the local's place to play and win due to their unique promotions and player incentives. The Siena's frequent jackpots from a variety of player friendly slots, popular table games, and promotional giveaways, have created a winning vibe that locals love. The modern upscale atmosphere along with a great and friendly staff has made the Siena a destination that is now recognized by the travel and leisure industry as one of the best in Northern Nevada.
"Each month our casino creates new and exciting promotions tailored for both our local, and our out of town guests, stated Dave Halabuk," Director of Casino Operations. "We strive to give our customers great fun, great value and lucrative incentives at the Siena, having three winners already is fantastic, we love this new promotion. Our core commitment to providing a memorable customer experience is paramount and second to none."
The Siena Hotel Spa Casino is Reno's only Four Star Riverside Boutique Hotel Spa Casino. In addition to its exciting and state of the art casino, the Siena offers newly remodeled luxurious rooms with beautiful river and city views, a full service spa, and multiple dining options.
Contact: Scott Short Email: SShort(at)Sienareno(dot)com
# # #
The new Siena Hotel Spa Casino, which reopened in 2011, is Reno's only riverfront 4 STAR hotel casinos. This boutique resort features newly remodeled rooms and suites, 3 signature restaurants, a world class spa and upscale casino. For more information on the Siena Hotel Spa Casino either phone 877-743-6233 or visit their website at http://www.SienaReno.com.