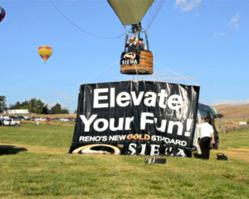 Reno, NV (PRWEB) September 20, 2012
The Siena Hotel Spa Casino in Reno, NV continues to exceed expectations with new sole ownership of Grand Siena LLC. The Siena has been a sponsor of many local events this summer that are popular with out-of-town visitors –such as Hot August Nights, The Great Reno Balloon Race, Artown, and many more. The Siena is taking new strides to support the Reno community by partnering with local events and actively conducting grass roots efforts that provide their guests with unparalleled incentives. The Siena has been a sponsor for many Reno events this summer and is looking forward to many more through the end of the year.
"We realize the importance of our community and know that the many events the Reno area hosts, makes our community stronger," said Scott Short, Director of Business Development. "We don't want to miss out on an opportunity to support the things that make Reno unique and keep people coming back."
As a sponsor of events the Siena has provided unique elements to enhance tens of thousands participants' and guests' experience while visiting Reno from California, Oregon and as far as Florida. In addition to spectacular giveaways during local events, the Siena has added to its impressive casino promotions. Locals and visitors are still able to take advantage of the $200 in Free Play and are now able to convert their points into free play – any day, any time, anybody. In addition, Siena Rewards Members can be randomly selected while playing their favorite slots or tables to be one of their Lucky Seat Winners. There have been 14 winners every day for up to $1,500 each.
The new family-owned Siena Hotel Spa Casino continues to support the local community by sponsoring local events, keeping local and non-local visitors coming back again and again. That's part of the Siena's total commitment to being Reno's New Gold Standard.