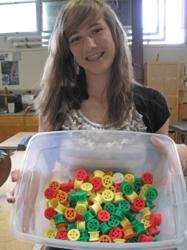 Students are so intrigued that the 3D printer can make a real objective from a drawing.
Rocklin, CA (PRWEB) May 09, 2013
The 3D printer in Tom Stargaard's freshman Tech Core class at Del Oro High School in Loomis, CA has run every day since it was unpacked in January. The Sierra College Science, Technology, Engineering and Math (STEM) Collaborative anticipates this early classroom introduction to rapid prototype equipment will lead students to consider technical careers in evolving manufacturing industries.
Exposure to 3D printing entices students to dream, create, design and experience the fascinating world of additive manufacturing. They can watch objects being made by placing layer after layer of material down to build up a product rather than cutting away material from a solid.
According to Stargaard, students rush to the 3D printer at the beginning of each class period to see what is being produced. "Students are absolutely fascinated to see something being created from their designs," said Stargaard. "In my 17 years of teaching, I've never seen anything get so much attention as additive manufacturing. Students are so intrigued that the 3D printer can make a real objective from a drawing in a matter of hours."
The 3D printer came in handy when Stargaard couldn't find an obsolete LEGO wheel hub part used in a crane project that students design and build to lift a small concrete bucket and move it into a bin. To solve the problem, students used calipers to take precision measurements and designed a new hub in SketchUp, a 3D modeling program. Additive manufacturing was used to create a new compatible part that could guide the string on the crane.
Other class projects include Greek temples, goblets, vases and jewelry boxes. The Del Oro High School robotics club has also designed and printed customized parts for the small robots they use in competition.
The rapid prototype equipment and other cutting edge industrial design and manufacturing tools were put in this and other high school classrooms by the Sierra College STEM Collaborative, explained Carol Pepper-Kittredge, Director, Center for Applied Competitive Technologies (CACT), Sierra College.
"It is expected that 3D printing will transform the U.S. manufacturing sector and there will be many new exciting STEM careers in design, engineering, manufacturing and product development," said Pepper-Kittredge. "If students practice design and create projects using additive manufacturing in high school, they can come to Sierra College focused on education paths that lead to careers in growing fields."
Stargaard reported that the program would not have been possible with the support of Sierra STEM. "This cutting-edge equipment has enabled students to have a hands-on experience," said Stargaard. "Students gain trouble shooting and critical thinking skills when they can see, touch and understand 3D design, custom manufacturing and rapid prototyping of real parts that solve problems, such as the shortage of crane parts."
About Sierra College STEM Collaborative
The Sierra STEM Collaborative is funded by California Community College Chancellor's Office to create a pipeline of students interested in STEM careers. For information, go to http://www.sierraschoolworks.com or contact Carol Pepper-Kittredge at (916) 660-7801.