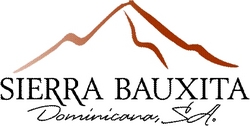 This action has been taken because our company has been unable to conclude a current mining and exploration concession and because the government of the Dominican Republic expropriated, without compensation, its bauxite stockpiles at the port
Ferndale, WA (PRWEB) October 27, 2008
Sierra Bauxita Dominicana (SBD), a company that has mined and shipped raw bauxite from the Dominican Republic for the past four years, announced today that it is considering withdrawal from the Dominican Republic.
"This action has been taken because our company has been unable to conclude a current mining and exploration concession and because the government of the Dominican Republic expropriated, without compensation, its bauxite stockpiles at the port," says Charles N. Speltz, Vice President of SBD.
For the time being, SBD has terminated all exploration, production and sales activity and has furloughed its entire Dominican staff pending resolution of these problems. "This decision is particularly injurious to the Pedernales Province, where Sierra Bauxita has provided a significant level of employment," Speltz says.
Additionally, Speltz adds, the recent extreme weakness in raw material prices and ocean going shipping rates has accentuated the market weakness of Dominican bauxite, which is known to be lower in alumina and higher in silica than many of its competitors. Dominican bauxite generally contains about 45-47 percent alumina while silica can easily exceed ten percent.
"At this time, no definitive decisions have been made but Sierra Bauxita stockholders have been notified of the existing and potential problems," Speltz says. "If these problems cannot be satisfactorily resolved, Sierra Bauxita will withdraw from the Dominican Republic."
About Sierra Bauxita Dominicana
Established in 2006, Sierra Bauxita Dominicana (SBD) owns contractual rights for the exploration, mining and exportation of cement grade bauxite located in the Pedernales region of the Dominican Republic. The managing partners have been involved in the bauxite business for over a decade, working in the Dominican Republic for over 12 years. SBD is currently seeking long-term arrangements for the supply of metallurgical grade and cement grade bauxite with select companies. For more information, visit http://www.sierrabauxita.com.
Contact:
Charles N. Speltz, Vice President
Sierra Bauxita Dominicana
303-237-2772
# # #