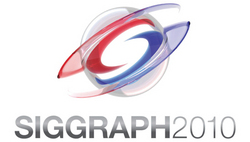 The CyberGlove products have been at the last several SIGGRAPH events
San Jose, CA (Vocus) July 19, 2010
CyberGlove Systems is set to exhibit at SIGGRAPH 2010 in Los Angeles, CA, which runs from July 27-29. SIGGRAPH attracts the most respected and creative people from all over the world, a community consisting of professionals from research, science, art, animation, gaming, interactivity, education and web. SIGGRAPH is considered one of the key venues for the interactive entertainment and computer graphics industries. CyberGlove Systems will team up with European partner, Immersion SA, to showcase their fantastic Cubtile product, along with some mind blowing motion capture-related content using CyberGlove's own hardware and software technology.
"The CyberGlove products have been at the last several SIGGRAPH events," says Faisal Yazadi, CEO of CyberGlove Systems. "I am especially excited for CyberGlove Systems to be at this year's event, as well as see all the new technologies. We have a great line up of products and demos to show. I invite all motion capture professionals to definitely stop by and check us out. I hope to see you there!"
CyberGlove Systems will be exhibiting at Booth #106.
For more information, contact Faisal Yazadi, CEO of CyberGlove Systems, at fyazadi(at)cyberglovesystems(dot)com.
CyberGlove Systems is the worldwide leader in data glove technology and offers the most sophisticated hand-centric motion capture solutions in the marketplace. CyberGlove Systems' products include four different data glove solutions (CyberGlove®, CyberTouch®, CyberGrasp® and CyberForce®) and its VirtualHand Software Development Kit (SDK). Its products allow users to capture detailed finger, hand, and arm movement in virtual reality, allowing users to interact with digital objects in virtual reality.
CyberGlove Systems technology benefits customers by allowing them to more quickly prototype and animate in virtual reality thereby saving them both time and money. Furthermore, CGS is the only data glove solution offering both kinesthetic force and vibrotactile feedback. This haptic technology benefits customers by simulating realistic physical forces such as gravity and touch for industrial engineering, military, and academic research applications. CGS customers include Fortune 500/Global 500 corporations, government agencies, and universities in the U.S., Europe, Asia, Middle East and South America.
Established in 1990, the CyberGlove® Systems family of products remains the most trusted and widely used data glove solution today with the very best customer support.
# # #