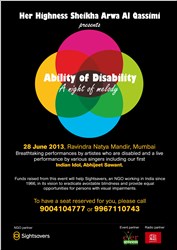 An event by HH Sheikha Arwa Al Qassimi and organized by Sightsavers gives hope for the disabled. "Ability of Disability
New York (PRWEB) June 27, 2013
An event by HH Sheikha Arwa Al Qassimi and organized by Sightsavers gives hope for the disabled. "Ability of Disability – A Night of Melody" is an event that will showcase performances by artistes who are disabled. The event will also have performances by various singers including the very first Indian Idol, Abhijeet Sawant.
A representative from the organizing committee confirmed the event and said, "The musical event is organized by Her Highness Sheikha Arwa Al Qassimi and the proceeds will help Sightsavers in its vision to eradicate avoidable blindness and provide equal opportunities for persons with visual impairments."
The event is one of its kind, and is predicted to collect huge amount in donations that will go to the Sightsavers for helping the visually impaired persons. This event will be held on 28th June 2013 at Ravindra Natya Mandir, Sayani Marg, Prabhadevi, Mumbai – 400025.
"We have been doing such fundraisers in many countries mainly the third world, especially the African countries. Our prime objective is to help the needy and do the best possible for them. These people are challenged by their vision and many have the curable error but cannot afford to spend on its treatment. It an effort where would try and help most of them see this beautiful world with their own eyes." said a participant from the event.
It's a good gesture from the Her Highness and Sightsavers representing the value of humanity in today's time. It is going to be a melodious evening for the people in Mumbai and a large crowd is expected to attend and donate in this event. The event proves that it only take passion and dedication of one person, no matter how small or large, to do something for one in need of help and support.
The Ability of Disability event by Her Highness Sheikha Arwa Al Qassimi executed by Sightsavers gives hope to the marginalized. It sets an example that anybody in any part of the world could choose an important cause, support it and lead the way instead of waiting for other people to take action.