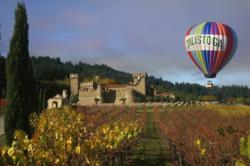 The balloon ride was very scenic, good shots of downtown Calistoga, the vineyards, Castello di Amorosa, Old Faithful, Sundance Ranch
Calistoga, CA (PRWEB) December 06, 2011
Napa hot air ballooning company, Calistoga Balloons is offering great specials for lots of fun in the air and sun. Internet rates for a romantic balloon ride with champagne brunch are only $219, but for those who only want the casual balloon experience, without brunch, it is just $199. Holiday Gift Certificates are available for $200, for ballooning with brunch, or just ballooning for $180. These offers are good until December 31st, 2011. These are great prices to take that special someone on a romantic bird's eye view of California's Napa Valley.
Along with the above services, Calistoga Balloons - Napa Valley has added some new ballooning packages. Customers who want to try exploring Napa by both land and air can order the Ballooning, Brunch and Horseback Riding package for $319. For a Tuscan castle adventure, Calistoga Balloons offers the Ballooning, Brunch and Castello di Amorosa Tour and Tasting for $249. Art – lovers will enjoy a tour of world – renowned artist Carlo Marchiori's Palladian – style home and art galleries with the Ballooning, Brunch and Ca'Toga Villa Tour for $255 – available only on Saturdays from May to October. This holiday season is the perfect time to tick one more thing off your list!
"The balloon ride was very scenic, good shots of downtown Calistoga, the vineyards, Castello di Amorosa, Old Faithful, Sundance Ranch! The two seasoned balloon dudes were pretty good, did well with navigation. With the smooth peaceful ride, our group actually wants to go again next time we're on vacation, but for now check one off the bucket list," said Taylor O. of Toronto, Ontario. Calistoga Balloons – Napa Valley is the place to go for hot air ballooning, sightseeing tours, and wine tours.
For more information, please call 888–995–7700 or visit them on the web at http://www.calistogaballoons.com.
About Calistoga Balloons
Calistoga Hot Air Balloons, Napa's sightseeing tour company is the only hot air balloon company to fly from scenic Calistoga, California and the northern end of California's Napa Valley on a regular basis. Flights are rural in nature, providing pristine views of the Napa Valley from a hot air balloon. Experience the amazing Old Faithful Geyser and the dramatic Palisade Cliffs of Napa Valley as well as spectacular views of world-renown landmarks like Mt. St. Helen and the abundance of wineries. Flights are offered year round, weather permitting.
###