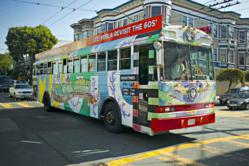 The Magic Bus is a celebration of San Francisco's rich history
Sausalito, CA (PRWEB) December 09, 2011
Magic Bus, San Francisco's only time-traveling bus tour, is adding six days of special holiday shows to their regular sightseeing tour this Christmas season! To accommodate family holiday outings and the busy shopping season, Magic Bus will run twelve psychedelic time-traveling trips during the last two weeks in December. The magical sixties sightseeing tours will run on December 21st through the 23rd and from the 28th to the 30th at 12PM and 3PM. The Magic Bus performances on special holiday dates and times will consist of the regular program. The expanded holiday schedule gives more folks a chance to experience a San Francisco original magical mystery tour this Christmas season!
The mind blowing fun will begin at Union Square on Geary Street, directly across from Macy's, and head straight for the Summer of Love! These specially scheduled Magic Bus tours are a great family Christmas outing, surprise for holiday visitors or a great chance to have a fun and funky break from hectic holiday shopping! Special holiday showtimes are scheduled for Dec 21st through the 23rd and from the 28th through the 30th at 12PM and 3PM.
"The Magic Bus is a celebration of San Francisco's rich history, and for the holiday season we wanted to celebrate by offering more performances of our Magic Bus tour so folks have a chance to share this only-in-San Francisco experience with their friends and family," says Annette Rose, managing director of the Magic Bus.
For more information or to order tickets, please call 1-800-838-3006 or visit them on the web at http://www.magicbussf.com/. Gift certificates are available by emailing magicbussales(at)gmail(dot)com.
About Magic Bus
Magic Bus is San Francisco's most innovative sightseeing tour, blending San Francisco's past and present into one unforgettable trip. This one-of-a-kind San Francisco Sightseeing Tour takes guests on a virtual trip to the past, while driving through noteworthy city sights of the present. The Magic Bus is great for everyone, whether a first-time tourist or a local intrigued by the city's psychedelic roots.
The tour consists of a 90-minute multi-media adventure, blending documentary film and music of the 1960s with the landmarks of culturally rich neighborhoods like Haight-Ashbury, Chinatown, North Beach and Golden Gate Park. The Magic Bus enables passengers to revisit the era of hippies and rock bands and the cultural phenomena that led to a revolutionary period of social change.
###