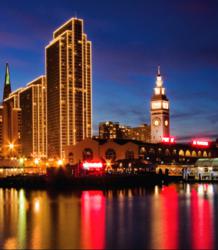 Taking the family on a Holiday Lights Tour has been a family tradition in San Francisco for many years.
San Francisco, CA (PRWEB) December 14, 2011
Although the night views of San Francisco are always beautiful, this time of year offers especially spectacular views of the city dressed in its holiday brilliance.
San Francisco bus tour company, Super Sightseeing Tours offer "Holiday Lights Open Top Tour" departures nightly from Union Square at 6 p.m. and Fisherman's Wharf at 6:30. The fully narrated tours include Embarcadero, Bay Bridge, Fisherman's Wharf, Union Square, Fairmont Hotel, and the Civic Center. They are the only company to also include a visit to Treasure Island.
"Taking the family on a Holiday Lights Tour has been a family tradition in San Francisco for many years. We decided to launch a new and improved version which not only takes in all of the spectacular sights but includes a stop on Treasure Island which truly has the best night view of the city," said Cameron Douraghy of Super Sightseeing Tours.
San Francisco Super Sightseeing Tours offers a variety of tours including Alcatraz Combination Tours with an ultimate City or Redwoods tour; Giant Redwoods; Muir Woods and Sausalito; Deluxe Wine Country; Yosemite National Park; Winchester Mystery House; and, many other interesting tours in and around the area.
For more information on Super Sightseeing Tours, please call them at 415-353-5310 or visit them on the web at http://www.supersightseeing.com. They are located at 2627 Taylor Street, on Fisherman's Wharf, in San Francisco.
About Super Sightseeing Tours
Super Sightseeing Tours is Northern California's most reputable tour company. See beautiful San Francisco from their luxurious clean-air buses. Their experienced tour guides will show tourists San Francisco and the Bay Area's many splendors. Have an informative, memorable and fun experience throughout the city, Muir Woods, Sausalito, the Wine Country, Monterey, Carmel, Yosemite and other California sights. All bus tours include pick-up and drop-off at most San Francisco Hotels.
###