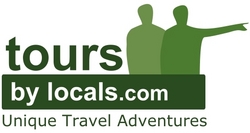 It's always great to show people around Vancouver but I was especially pleased to help out Ingeborg because she might have had trouble on her own. Plus she was a great dinner conversationalist.
Vancouver, British Columbia, Canada (Vocus) August 30, 2009
When independent traveler Ingeborg Drews from Salzburg, Austria was planning her trip to Vancouver, BC she recognized that she'd need some assistance to make it happen. A stroke twelve years ago left her partially paralyzed and unable to walk, so traveling on her own presented obvious challenges. ToursByLocals.com provided the help she needed. Through the website, she contracted with five different ToursByLocals.com guides who collaborated to help her enjoy her time in the city.
According to company President Paul Melhus, "While Ingeborg was unable to walk, she could transfer between a wheelchair and car. We had a folding wheelchair that fit in the trunk, so the guide would assist her with the transfer and push the wheelchair during the tour. Since all of our tours are private, it wasn't really difficult to accommodate her needs."
During the five days Ingeborg was in Vancouver, the ToursByLocals guides provided a complete Vancouver experience, including a Vancouver city tour, a trip to the Capilano Suspension Bridge and Grouse Mountain, a boat trip to Bowen Island and a visit to the world-famous Museum of Anthropology.
One evening was spent with guide Alvin Parker on his 'Dinner with Alvin' tour. As Alvin puts it, "It's always great to show people around Vancouver but I was especially pleased to help out Ingeborg because she might have had trouble on her own. Plus she was a great dinner conversationalist."
ToursByLocals has also responded to requests from travelers visiting Thailand for the inexpensive cosmetic surgery available there. The customer just wanted one of the company's private guides in Bangkok to help her to the clinic, be a companion during recuperation and to show her around the city once she'd recovered.
Another area where a private guide can help is in overseas adoptions. When Lisa and Richard Stanton, a British couple, were trying to arrange an adoption in Armenia, they hired a ToursByLocals guide and a driver to assist them as they visited Yerevan to arrange the adoption of the new baby. One of the company's Amenian tour guides was able to help in discussions with the local authorities, give them an overview of the country's culture and show them the sites of the capital, Yerevan.
Of course, not all requests can be handled. As Melhus puts it, "The Saudi doctor who wanted a St. Petersburg woman, under 25, very beautiful and available from 9 PM to 3 AM was referred to an appropriate Google search to find someone to meet his needs".
The company currently has 223 active guides and over 600 tours on their system, located throughout the world. Popular offerings include Bangkok Tours, Rio de Janeiro Tours and tours in St. Petersburg, Russia. They are adding new guides and tours on a daily basis.
About ToursByLocals
Launched in November, 2008, ToursByLocals.com helps travelers get a better travel experience while directly benefiting the people who provide those travel experiences. Our traveler customers want to do unique things, experience the reality of a place and its culture through the eyes of a local person. They have a sense of adventure, are socially conscious and want to see their travel spending directly benefit the people who live in the communities they visit.
Our tours guides want to earn income by providing the experiences travelers are seeking. They are entrepreneurial, passionate people who are proud of the place they live. We serve those already in the travel industry as well as people who may not have been able to participate before.
We provide these services through ToursByLocals.com. The website offers a convenient way for tour guides to promote their travel services and availability and for travelers to search for suitable tours and find out how other travelers rated them. We handle the marketing of the tours, booking process, customer service, payment processing and forwarding of money onto the tour guide.
###