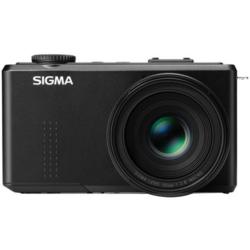 NYC, NY (PRWEB) January 09, 2013
B&H Photo Video is pleased to share the just-announced Sigma DP3 Merrill and the new Monochrome mode in Sigma Photo Pro 5.5, along with the upcoming release dates of the new Sigma 120-300mm F2.8 DG OS HSM sports lens and the Sigma 17-70mm Contemporary Lens.
The Sigma DP3 newest Foveon-powered compact prime camera includes a 50mm F2.8 lens, with the 1.5x sensor factor of the APS-C 46 Megapixel Merrill Generation chips equates to a 75mm F2.8 with 1:3 maximum macro magnification. This short tele member of the DP line is going to be a favorite of portraitists, for certain, with its longer focal length. And the combination of close-focusing and 1:3 macro magnification combined with the exceptionally fine detail captured by this sensor is going to make for beautiful photographs of tiny things drawn huge.
Browse and see all Photography Product Announcements from CES 2013 Roundup.
The Sigma 17-70mm f/2.8-4 DC Macro OS HSM Lens for Nikon or Sigma 17-70mm f/2.8-4 DC Macro OS HSM Lens for Canon is a standard zoom lens designed especially for DSLRs with APS-C-sized image sensors. This lens has a 35mm-equivalent focal length range of 25.5-105mm, providing wide-angle to portrait-length angles of view for use in everyday shooting situations.
This lens features a fast f/2.8-4 maximum aperture to help better control the focus plane and to aid in low-light shooting. A built-in Optical Stabilizer also helps in low-light situations by providing a four-stop reduction in the appearance of camera shake, which is ideally suited for macro and telephoto shooting as well. The Hyper Sonic AF Motor delivers fast, smooth, and quiet auto focusing that greatly benefits video applications. This AF motor can also be instantly deactivated by rotating the manual focus ring, giving one the ability to fine-tune the focus manually. The integration of two FLD, one SLD, and three aspherical lenses in the construction helps to reduce the effects of chromatic and chromatic axial aberrations, and Super Multi-Layer coated elements help to increase contrast for sharp, clear imagery.
As part of Sigma's new Contemporary line of lenses, this lens is designed using Thermally Stable Composite (TSC) materials to help reduce the overall weight and size of the lens barrel by about 30% without compromising on optical integrity, rigidity, or overall durability.
For updating lens firmware and fine-tuning its nuances to best-suit ones personal shooting, this lens is compatible with the Sigma USB Dock. The dock allows one to specify certain parameters and other settings through the Sigma Optimization Pro software, such as AF speed and focusing limitations.
The Sigma 120-300 F2.8 DG HSM OS is the first lens introduced into the Sports category. Designed for full frame cameras but can work with APS-C sized sensors as well, the 120-300 F2.8 has a large aperture and versatile focal length, ideal for a wide range of photography. Though placed in the Sports category, the 120-300 F2.8 is also great for nature, automotive, wildlife, and everything in between.
Equipped with state of the art technology such as a Hyper Sonic Motor (HSM), an Optical Stabilizer (OS) and Inner Focusing and Zooming, the 120-300 F2.8 ensures sharp and beautiful images.
The HSM allows for a quiet, fast, and accurate autofocusing while the OS compensates for camera shake while shooting by hand. Two FLD glass elements, which have performance equal to fluorite, are incorporated with one SLD element to reduce color aberration at the highest degree. The Sports category offers not only a higher level of customization through the Sigma USB dock, but also has a dust and splash proof design.
Connect with B&H Photo on the web! (Facebook, Twitter, Tumblr, Google+, Pinterest, Flickr, YouTube, B&H Insights & InDepth)
About B&H Photo Video
As the world's largest source of photography, video and audio equipment, B&H Photo-Video is known worldwide for their attentive, knowledgeable sales force, and excellent customer service, including fast, reliable shipping. Visitors to the website can access a variety of enlightening articles and educational videos. B&H has been satisfying customers worldwide for over 35 years.