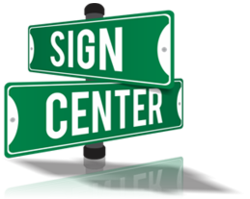 We never say no.
Washington, DC (PRWEB) November 17, 2012
Pointing the Way
Over the last quarter of a century, Sign Center has grown from a small "mom and pop" sign business into one of the top sign companies in Washington DC, Maryland and Virginia. They're proud to say they "never say no" to customers, whether they need an office sign, wall sign, banner, metal sign, store sign, church sign, or a business sign of any type. In their own words, "The only reason we've been successful for the last 25 years is that we make our customers happy. If we didn't do that, we wouldn't last another day." With customers big and small seeing the back-lighting, Sign Center has made a name for themselves in a big way.
Sign of the Times
Sign Center works with some of the biggest companies in the area, from fast food to fast cars, higher education to a higher calling. Whether you're a major player or a raw recruit, Sign Center can offer the business signage that leads to your success. Shopping malls, office buildings, universities, government agencies, retailers, construction job sites, restaurants, churches, contractors, architects, the list goes on and on. Nothing is too big or too small, from the smallest office sign or store signs to a massive custom sign project across the city or the state. They love a challenge, whatever comes in through the door can be a surprise, and that's the way they like it. With this spirit in mind, Sign Center has developed an excellent reputation in the Washington, DC/Baltimore area as a complete "one stop shop for signs and banners" for its customers.
Marking The Spot
They offer hundreds of different kinds of business signs, including banners, wall signs, channel letters, monument signs, office signs, trade show displays, vehicle wraps, sandblasted wood or stone, metal signs, neon signs, light box signs, plastic letters, engraved signs or plaques, and vinyl lettering. Need something in a hurry? Sign Center can design, produce and install a banner or business sign overnight for that big event when nothing but the best will draw the crowds. Not sure what business sign type is needed? They have thousands of variations to help get the perfect signage needed for any business. Looking for custom signs produced to your exact specifications? They can work with existing designs or create new custom designs to really set a company apart from its competition, or to give an office building, retail business or shopping mall those perfect touches that make them special and distinctive.
A Capital Idea
Sign Center was founded in 1986 by husband and wife team Chuck and Laura Shafer, and the sign company is now celebrating 25 years of producing outstanding business signs for its customers throughout the greater Washington, DC/Baltimore area. They specialize in custom signs and custom signage for any purpose.
About
Sign Center is a leading sign business in the DC/MD/VA area. With a quarter of a century's experience producing top-quality custom signs of all types, they have developed a prominent customer base including the Smithsonian, Westfield Malls, Ryan Homes, Giant Food, area universities, and both the Washington Nationals and Baltimore Orioles. For further information, please contact:
Contact Information:
Contact Person: Mike Buchner
Company Name: Sign Center
Telephone Number: 301-931-3996
Fax Number: 888-229-8159
Email Address: info@YourSignCenter.com
Web site address: http://www.YourSignCenter.com