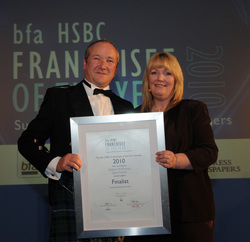 (PRWeb UK) October 20, 2010
Stephen McMurray at Signs Express (Falkirk) was the first of the Scottish sign companies to be the bearer of good news having reached this year's finals in the national Franchisee of the Year Awards. In the same week Jim Gifford at Signs Express (Aberdeen) and Graham Casey at Signs Express (Glasgow) were also celebrating after being announced as winner and runner up at the Sign Excellence awards respectively.
Recognised for achieving high levels of repeat business and customer referrals as well as increasing turnover by an impressive 200%, Stephen has excelled since buying the business in 2005. Stephen capitalised on his previous experience and as a result has achieved in the past two months alone, the turnover equivalent of what the previous owner only managed to achieve in a year.
But the good news for Stephen didn't end there, Signs Express (Falkirk) was also awarded Best Vehicle award at a separate event at the Signs Express Sign Excellence Awards for his team's vehicle wrapping skills for customer Gemini Supplies.
The awards which were split into four main categories – Interior, Exterior, Vehicle and Project – were independently judged by British Sign & Graphics Association (BSGA) director David Catanach and Sign Directions' editor Val Hirst.
In the same awards Signs Express (Aberdeen) was also an award winner. Winning the Best Project award for the team's work for local shopping mall The Trinity Centre. The Aberdeen signage specialist was contracted to rebrand all internal and external signs and graphics for the re-launch of The Trinity Centre. The full rebrand required numerous signage solutions to be utilised and included over 250 square metres of vinyl to be printed, laminated and installed.
Signs Express (Glasgow) also received recognition at the Sign Excellence Awards reaching the finals in both Best Project and Best Interior Sign categories. Graham Casey was contacted to create signage to support, promote and increase business in The Glasgow Science Centre gift shop during their 'Wallace and Gromit' themed season.
Notes for editors:
1) For further press information, please contact Sarah Critoph at Signs Express. Tel: 01603 625925
2) Signs Express is a member of the British Sign and Graphic Association, the British Franchise Association and The International Sign Association.
###