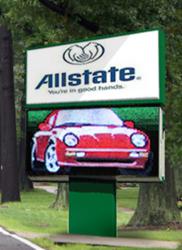 Libertyville, IL (PRWEB) October 31, 2012
The cost of an LED sign is a significant investment for most businesses and organizations. It is imperative that the appropriate size and style of sign is chosen, in order to achieve a satisfactory return on investment (ROI). LDS has added another tool to their customer education resources to help guide prospective buyers in this process, by providing the "Step By Step Sign Selection Guide". This guide is an interactive tool with which prospective buyers can systematically answer simple questions regarding the use and placement of their sign, along with the requirements necessary to reach and appeal to the desired audience.
The guide starts by asking what the approximate maximum viewing distance the customer expects the target audience to be from the sign. This information is used in conjunction with the possible speed the viewers may be moving at, in the event that the sign is positioned on a road or highway. These two factors will establish the size (height) that the signs message characters must be in order to be readable (maximum readable distance) by the target audience. This information is probably the most important factor in making certain that the LED sign you purchase will provide the ROI you require. Characters that are too small to be read at the expected maximum distance will result in a failure to reach your full audience. Characters that are unnecessarily large will result in a more costly sign than the customer needs to accomplish their objective. Establishing the most effective and maximum character height is the first and most basic step in selecting the proper programmable LED sign, but in spite of this, it is a commonly overlooked detail.
There are a total of six steps in the LDS selection process that enable the buyer to gradually narrow the choices to the suggested proper size and style of sign. Included in the LDS selection process are; maximum characters expected to display in a single stationary frame, LED pixel color configuration (i.e. single-color, tri-color or full color), sign size (height and width limitations or targets), indoor or outdoor placement, pixel pitch (sign resolution) and finally communication method (RS232, Ethernet and/or wireless). Obviously, every buyer has certain criteria that may be specific to their individual needs, but following these six steps in the "Step By Step Sign Selection Guide" will at absolute least, get the customer pointed in the right direction. Once the six steps have been completed, the customer can then focus on pricing and other more personalized options that are offered by the LED sign manufacturer. Those issues can and should be addressed directly with the sales representative, but the customer will be able to proceed with the full confidence that they are choosing a sign style and size that will give them the best return on their investment.