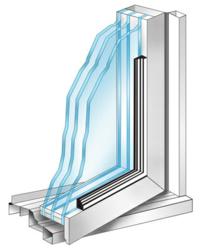 I believe that triple glazing is not only 'the next big thing',
but that it is essential for the industry to adopt it, if we are
to prosper
(PRWEB UK) 11 January 2013
Although double glazing accounts for the vast majority of new and replacement windows currently installed in the UK, there are signs that a burgeoning market for triple glazing installations are beginning to emerge. Triple glazing is a common fixture in countries with extremely cold climates, such as Canada, the Scandinavian countries and Russia but, until recently, has only seen uptake in the UK in areas that suffer from extreme noise disruption such as near Airport flight paths and busy motorways.
While energy efficiency in double glazing has advanced to the point that most double glazing units manufactured today are able to achieve an A-rating, with the Signature Window system achieving a rating of 30+A; Triple Glazing units are able to achieve over 40% better energy efficiency over A-rated double glazing. Thus offers significant potential for customers to achieve even larger savings on their energy bills as well as saving higher amounts of carbon emissions per year.
Since there has been a rise in environmentalism in the public consciousness in recent years and that most homeowners are now more knowledgeable about the various benefits of better energy efficiency; Signature believe that triple glazing could offer a more easily communicable sales point for their range of energy-efficient windows rather than explaining the advanced technology behind their double glazing.
For more information on the performance of the Signature Window triple glazing system as well as the Signature Installer Network please contact Mike Whitlam on 01245 362 236 Ext: 206 or by email at Mike(at)pioneertradingcompany(dot)co(dot)uk