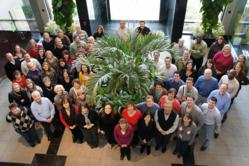 With every staff member we add, we are looking for new skills and experience to take our programs and services to the next level for our customers.
Columbus, Ohio (PRWEB) February 29, 2012
While many people have spring training on their minds, one company is focused on a different kind of training as we head towards the spring season. Signature Worldwide may not be working with baseball players, but for organizations like hotels, casinos, equipment rental, and trucking companies, having the right team in place with the right skills is just as crucial for their success.
While Signature Worldwide helps their customers find and develop the right teams to have the right skills to achieve business results, they are also challenged with keeping the same standards for their internal staffing. The international company based in Dublin, Ohio has staff based around the country to meet the needs of their growing clientele. And just like the best baseball teams, they recruit from all over the world, flying team members into Ohio for training and development.
"Signature Worldwide has an international reputation as the leading provider of training and business solutions for service-based organizations," said Steve Wolever, CEO. "With every staff member we add, we are looking for new skills and experience to take our programs and services to the next level for our customers."
Over the past few months, Signature Worldwide has added four key staff members that will take the company to new heights. Andrea Zimmerman is the new Director of Organizational Performance and Development, Christine Garcia is a new Instructional Designer, Brad Mason is a new Regional Trainer, and Brian Kotula is the new National Director of Sales in Hospitality. This group of individuals brings powerful corporate and industry experience, creating important synergies across the company that promise great things for current and future customers.
Andrea Zimmerman, Director of Organizational Performance and Development, is a nationally respected organizational development professional with an emphasis in sales and operations leadership development. She has worked with companies such as PepsiCo, SC Johnson & Sons, and Walgreens in the areas of training, organizational and talent development, leadership, change management, and sales capability. Zimmerman is currently completing her PhD in Industrial Organizational and Social Psychology at Northern Illinois University, and holds her MBA from University of Missouri-St. Louis, as well as a BA from Augustana College. An avid volunteer and community leader, Zimmerman currently serves as the Board Chair of A Heart for Animals, Inc. based in Huntley, IL and is a lifetime member of the Girl Scouts of America.
Christine Garcia, Instructional Designer, has worked in the training & education field for more than 13 years. She has considerable experience designing, developing and delivering corporate education programs for a diverse range of organizations, which include the New York Mercantile Exchange, Reuters, and Fortune 500 clients of PricewaterhouseCoopers. Garcia's training courses have been Brandon Hall award winners and nominees and have been lauded as "professional, clear, complete, helpful, and on-target." She holds her MA with Honors in Instructional Design and Training from Montclair State University and a BA from Rutgers University. Garcia is also an active member of the American Society for Training and Development.
Brad Mason, Regional Trainer, has 12 years experience in sales training, 15 years experience in human resources, and over 23 years experience in the military as a member of the United States Marine Corps. He spent 27 years with PepsiCo developing a wide range of skills, including sales, marketing, program development, leadership training, and building organizational capabilities. Mason's expertise is in engaging and empowering employees to achieve organizational goals. He is based in the Chicago, IL area and is active in the community working with underprivileged youth.
Brian Kotula, National Sales Director, leads hospitality sales efforts in New York City and the surrounding metro area, as well as nationwide. Prior to joining Signature Worldwide, Kotula spent over 12 years in the hospitality industry working in marketing and business development for Open Hospitality, Luxe Worldwide Hotels, and HotelRevMAX. The New Jersey native also spent 13 years in Wall Street's financial services arena performing various operations and financial functions before he returned to New York University to earn his masters degree in Hospitality Studies and Asset Management at NYU's Tisch Center for Hospitality, Travel, Tourism and Sports Management. Having a unique background in hospitality and finance, Kotula is a valuable consultant for hotel owners and operators. He is also is an active member and past president of the HSMAI (Hospitality, Sales, and Marketing Association International) Big Apple chapter.
Signature Worldwide began in 1986 training hotel employees to improve customer service levels, increase RevPAR, raise occupancy levels and ultimately generate more revenue for hospitality clients. Over the past 25 years, they have expanded their industry expertise to multifamily and public housing, equipment, trucking, party and event rental, senior living and in 2010 introduced social media training. Whenever the phone rings, a customer approaches, or an online inquiry is generated, Signature Worldwide helps to improve the customer experience significantly.
"With the right team in place, Signature Worldwide will be able to develop and implement effective blended learning solutions that combine the right training and experiences to build capabilities and generate even greater results for our clients," said Andrea Zimmerman, Director of Organizational Performance and Development.
About Signature Worldwide | Signature Worldwide is the leading provider of training and business solutions to service-based organizations, creating tailored employee training and marketing programs that directly impact the bottom line. Established in 1986 and headquartered in Dublin, Ohio, Signature Worldwide operates throughout North America and has licensees in four other continents; Africa, Asia, Europe and South America. For more information, visit http://www.signatureworldwide.com or connect with Signature Worldwide via Twitter @signatureworld or on Facebook at http://www.facebook.com/signatureworldwide.
###