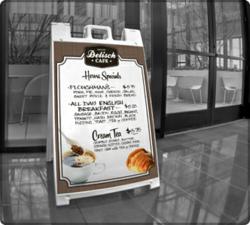 Our goal is to be a total solutions provider for our customers, and one of the best ways we can do this is by expanding our product line. We now have A frames for every purpose and every budget. –Rick D., CEO, Signazon.com
Dallas, TX (PRWEB) February 29, 2012
As Dallas-based e-commerce company Signazon.com continues to grow, so does the number of custom sign products offered on the site. Signazon.com's most recent area of product development has been A frame signs. Whereas the company previously offered just one a frame product, now 5 different types of A frames are available for retailers and other businesses to purchase.
Signazon.com identified the need for expansion in the A frame market based on both the requests of existing customers and in-depth research and analysis of the custom signs industry. A frames are a useful tool for brick-and-mortar businesses as well as mobile companies. These sandwich board signs can often be seen in front of restaurants, at trade shows or even at large event facilities to direct guests, vendors, etc. The advantage of the A frame sign is that it is large, highly-visible and falls in the line of vision of potential customers and clients as they walk down a busy street. In addition, most A frames are easily-portable, which means they can be brought inside after-hours or moved to a different location for a better impact.
5 different A frame sidewalk signs will be sold by Signazon.com. Signicade A frames, which are lightweight, plastic "sandwich board"-type signs, are the industry standard. They are a popular choice for restaurants and can display either more-permanent materials like Ultra Metal signs or something temporary like corrugated plastic signs attached with Velcro. Slide-in A frames improve upon the Signicade by adding clips for increased stability. Springer signs are a great choice for long-term promotion, as these products can withstand heavy wind and will not blow away. For companies that want a more-professional, clean look, Signazon.com offers metal A frames, an affordable option that is modern and sleek. Finally, wind signs provide superior durability as they give slightly with heavy wind and also have wheels for easy transport.
As the A frame market continues to grow, Signazon.com is excited to expand its product offerings for customers. "Our goal is to be a total solutions provider for our customers," says Rick D., CEO of Signazon.com, "and one of the best ways we can do this is by expanding our product line. We now have A frames for every purpose and every budget."
About Signazon.com
11969 Plano Rd, Ste 190
Dallas, TX 75243
1-800-518-1217
PR Contact: Jason.p(at)signazon(dot)com
Based in Dallas, TX and Boston, MA, Signazon.com is the top online business sign company. Different from a local sign shop, we have been deploying the very latest in e-commerce technologies, free template-based graphic design, and high-quality, full-color printing at cheap prices for car magnets, vinyl banners, window signs, yard signs, oversized checks, canvas prints, offset printing and sign accessories since 2005.
###