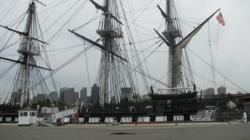 We are honored to produce signs for the USS Constitution, Faneuil Hall and other important Boston landmarks. Our signs help visitors view and learn about these incredible historic sites while maintaining their integrity. —Rick D., CEO, Signazon.com
Boston, MA (PRWEB) May 31, 2012
Boston signs company Signazon.com is proud to feature its work with the Boston National Historical Park and the USS Constitution. With the opening of a National Park Service visitor center in historic Faneuil Hall on Friday, May 25th, 2012, as well as Memorial Day weekend, the busy Freedom Trail area of Boston saw many visitors, hence the need for additional signage.
Located in the historic Charlestown Harbor, Signazon.com's Boston office offers both the convenience of a local presence and the efficiency of being a nationwide company that specializes in customized sign solutions. Since 2010, Signazon.com has worked with the National Park Service on a variety of sign projects. The most-recent need for signage came in anticipation of the opening of the Faneuil Hall Visitor Center, which serves as the central location for visitors interested in learning more about Boston's history. Window clings were used to direct visitors to the new location, and a variety of the shops and stores in Faneuil Hall's first-floor marketplace have also been featured outside the building with aluminum signs.
Signazon.com was also selected to produce a variety of tour signs to be used on the USS Constitution during Memorial Day weekend, which typically brings in a high number of travelers. These custom signs described various features of the Constitution, including the rigging, the sails and the copper hull. Vinyl banners and springer signs were also used to help guests find their way and ensure proper rules are followed to preserve the ship's history. Since Signazon's Boston office is located in Charlestown Harbor very close to Old Ironsides, a Signazon representative hand-delivered the signs they arrived safely.
"We are honored to produce signs for the USS Constitution, Faneuil Hall and other important Boston landmarks," says Rick D., CEO of Signazon.com, "Our signs help visitors view and learn about these incredible historic sites while maintaining their integrity."
About Signazon.com
11969 Plano Rd, Ste 190
Dallas, TX 75243
1-800-518-1217
PR Contact: Jason.p(at)signazon(dot)com
Based in Dallas, TX and Boston, MA, Signazon.com is the top online business sign company. Different from a local sign shop, we have been deploying the very latest in e-commerce technologies, free template-based graphic design, and high-quality, full-color printing at cheap prices for vinyl banners, magnets for cars, window signs, yard signs, oversized checks, canvas prints, offset printing and sign accessories since 2005.