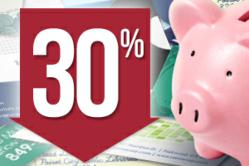 Business cards and other offset products are an essential part of small business marketing. Every company, even those without a physical presence, can use business cards to advertise. –Rick D., CEO, Signazon.com
Dallas, TX (PRWEB) October 09, 2012
E-commerce company Signazon.com is announcing a substantial price reduction for its business card products. Thanks to additional development of the Signazon.com site as well as investment in printing technology, these business cards are now up to 30% more-affordable than before. For small businesses looking to increase their exposure by distributing business cards, an investment as small as $19 can produce huge returns.
Since its foundation in 2005, Signazon.com has been a leader in the online printing industry, combining high-quality products, unlimited customization options and a technologically-advanced ordering platform to offer businesses and consumers alike an e-commerce experience that is quick, easy and cost-effective. Though the company's main emphasis is on digitally-printed products such as vinyl banners, yard signs and car magnets, the widespread popularity of traditional offset printing products like business cards, postcards and brochures has lead Signazon.com to enhance and develop additional product lines within this area of printing.
"Business cards and other offset products are an essential part of small business marketing," says Rick D., CEO of Signazon.com, "Every company, even those without a physical presence, can use business cards to advertise." Based on customer requests and demand, Signazon.com has not only lowered standard prices on business card products, but has also expanded its product line to offer customers more options for customization. Customers can personalize their business card order to fit their needs, selecting from two finishing options (matte and gloss), as well as rounded corners and even double-sided business cards.
"In many cases, business cards are the first impression a company makes on its potential customers and clients," says Rick D., "Our goal is to provide a variety of options to make business cards customized and unique, while still being affordable and providing the superior quality customers have come to expect from Signazon.com." In contrast to many of its competitors, Signazon's business cards are produced on a sturdy 16 pt. matte cover stock that looks and feels professional.
Over the next few months, Signazon.com will continue to expand its line of offset printing services, continuing its goal to become a "one-stop shop" for small businesses looking to advertise.
About Signazon.com
11969 Plano Rd, Ste 190
Dallas, TX 75243
1-800-518-1217
PR Contact: Jason.p(at)signazon.com
________________________________________
Based in Dallas, TX and Boston, MA, Signazon.com is the top online business sign company. Different from a local sign shop, we have been deploying the very latest in e-commerce technologies, free template-based graphic design, and high-quality, full-color printing at cheap prices for car magnets, vinyl banners, vinyl decals, window signs, yard signs, oversized checks, canvas prints, offset printing and sign accessories since 2005.