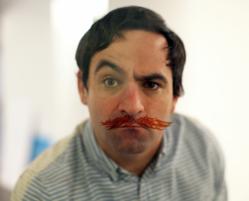 The moustache clings were a great, fun photo opportunity and a playful reminder for employees to join the team and solicit donations during the entire month of Movember. — Richard Bates, Chief Creative Officer, The Brand Union North America
New York, NY (PRWEB) December 22, 2011
This past November, 78 employees from marketing firm Ogilvy & Mather's New York office and sister company The Brand Union's 21 global offices partnered together to raise funds for the Movember organization, a non-profit that builds awareness for men's health and cancer research. In total, Ogilvy and The Brand Union raised $9,270 in the 2011 "Mo'Down." With help from custom signs company Signazon.com, Ogilvy and The Brand Union encouraged employees to grow their own mustaches and also contribute donations for the cause.
Every November since 2004, men across the globe have joined forces to grow moustaches and "change the face of men's health," specifically prostate and testicular cancer. Participants create teams which are tasked with shaving their faces on November 1st and growing out a mustache the entire month of "Movember," taking pictures along the way. The pictures are posted on each team's page on the Movember website, so that donors may track the progress of the team as well as the moustaches.
Looking to generate excitement about their company's participation in the Movember movement, The Brand Union contacted Dallas, TX-based e-commerce company Signazon.com with a unique idea. Signazon.com printed 1000 custom clear decals in 10 different moustache designs for use throughout the Ogilvy New York office as well as The Brand Union's offices across the globe. The moustache window clings were placed on glass doors as well as bathroom mirrors in anticipation for Team Ogilvy/The Brand Union's participation in Movember. Employees both male and female were able to "try on" various moustaches to see what they'd look like with a handlebar, fu Manchu, or other type of 'stache.
"This is a tremendously-creative use of our product, and we were excited to be involved with such a storied brand like Ogilvy & Mather," says Rick D., CEO of Signazon.com, "Ogilvy and The Brand Union needed a high-quality material for temporary display that could easily be removed, and so our Clear Static Cling was the perfect choice." Richard Bates, Chief Creative Officer of The Brand Union's North America office, had this to say, "Late one night we placed the clings on every clear glass surface possible at Ogilvy and in our own office at The Brand Union. We even had them on the mirrors in all the women's restrooms. The moustache clings were a great, fun photo opportunity and a playful reminder for employees to join the team and solicit donations during the entire month of Movember."
Congratulations are in order to Ogilvy & Mather and The Brand Union for their significant contributions to such a worthwhile cause—mo' doubt about it!
About Signazon.com
11969 Plano Rd, Ste 190
Dallas, TX 75243
1-800-518-1217
PR Contact: Jason(dot)p(at)signazon(dot)com
Based in Dallas, TX and Boston, MA, Signazon.com is the top online business sign company. Different from a local sign shop, we have been deploying the very latest in e-commerce technologies, free template-based graphic design, and high-quality, full-color printing at cheap prices for car signs, vinyl banners, window signs, yard signs, oversized checks, canvas prints, offset printing and sign accessories since 2005.
Movember is an annual, month-long event involving the growing of moustaches during the month of November, run by The Movember Foundation. The goal of Movember is to "change the face of men's health." By encouraging men to go to the doctor, Movember aims to increase early cancer detection, diagnosis and effective treatments, and ultimately reduce the number of preventable deaths.
The Brand Union is a global brand and creative design consultancy agency, composed of 500 people across 20 offices. The Brand Union is a wholly owned subsidiary of the WPP Group – one of the world's largest communications companies.
###