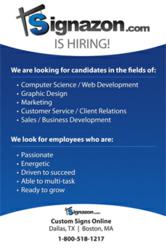 At Signazon.com, we believe in the potential of young, eager college graduates. We're adding new positions, not filling vacant ones, and in this kind of a job market, we know that college grads are driven to succeed. –Rick D., CEO, Signazon.com
Dallas, TX (PRWEB) February 21, 2012
Signazon.com, the e-commerce custom sign company based out of Dallas, TX, has announced an increase in hiring going into spring 2012. Representatives from Signazon.com's corporate office in Dallas will soon be attending a variety of university career fairs around the state, looking for potential employees in the fields of Computer Science, Web Development, Graphic Design, Marketing, Customer Service, Sales and Business Development.
Since its foundation in 2005, Signazon.com has been experiencing growth. Over the past two years, the growth rate has expanded considerably thanks to continued advances in web development and investment in superior printing technology. In 2010, the company expanded to include a production facility in Boston, MA. Last month, the Dallas, TX corporate office almost doubled in size thanks to the acquisition of nearby retail space. Signazon.com, which ships nationwide, is looking to grow beyond these two facilities. As the company continues to develop and expand, an increase in personnel is essential.
On Wednesday, February 22nd, Signazon.com employees will participate in the Baylor University Spring 2012 Internship & Career Fair in Waco, TX, as well as the University of North Texas Business Career Fair in Denton, TX. Signazon.com will also be represented at the UT Dallas Spring 2012 Career Expo on Wednesday, March 21st, in Richardson, TX. The company is preparing for these events by printing school signs and other unique promotional material to use as giveaways to attract potential applicants and give them a glimpse into the company's energetic atmosphere. Signazon.com's representatives will be looking to fill several different positions as all of the departments are growing, from Customer Service to Marketing to Web Development. All positions will be based out of the Dallas, TX corporate office.
Since its foundation, Signazon.com has supported local universities through the hiring of recent college graduates. "At Signazon.com, we believe in the potential of young, eager college graduates," says Rick D. CEO of Signazon.com, "We're adding new positions, not filling vacant ones, and in this kind of a job market, we know that college grads are driven to succeed. Here, their growth potential is endless." Positions are available for immediate consideration, however internships or delayed start dates are also possible for the right candidates.
To learn more about Signazon.com, visit http://www.signazon.com. If you are interested in Signazon.com's employment opportunities, email your resume, your availability information, and your salary requirements to hr(at)signazon(dot)com. All applicants are welcome.
About Signazon.com
11969 Plano Rd, Ste 190
Dallas, TX 75243
1-800-518-1217
PR Contact: Jason(dot)p(at)signazon(dot)com
Based in Dallas, TX and Boston, MA, Signazon.com is the top online business sign company. Different from a local sign shop, we have been deploying the very latest in e-commerce technologies, free template-based graphic design, and high-quality, full-color printing at cheap prices for car magnets, vinyl banners, window signs, yard signs, oversized checks, canvas prints, offset printing and sign accessories since 2005.
# # #