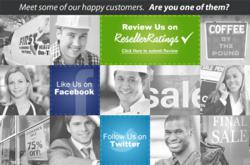 Signazon.com is all about service, and this is the same core value that customers will see in each and every piece of communication. — Alvin Jimenez, Director of Email Marketing, Signazon.com
Dallas, TX (PRWEB) December 28, 2011
Signazon.com, a nationwide e-commerce company that produces custom signs, has recently launched a new email marketing program. The Dallas, TX-headquartered company is using email marketing to reconnect with former clients and also reach out to prospective new ones. From a monthly newsletter to customer spotlights to informative installation guides, Signazon.com has a lot planned with the coming campaigns.
Founded in 2005, Signazon.com uses an e-commerce model to produce a wide variety of sign products, ranging from banners to window signs to car signs. All orders from Signazon.com are completely-custom, with personalized designs and unique sizes. Looking to keep customers engaged with the company and also show them how to use Signazon.com products to successfully-market and grow their business, the e-commerce leader is adopting a robust email program, which was implemented starting at the beginning of December.
Signazon.com contacts its customers to provide useful information such as product recommendations based on order history, spotlights of similar customers, tips for business marketing, product installation instructions, design guides, and even discount offers. "At Signazon.com, we recognize the power of being green in modern society, says Rick D., CEO of Signazon.com, "which is why we've adopted a paperless model for advertising and communication with clients. Connecting with customers is crucial, but so is being respectful of our environment."
Response to the email program has been tremendous. Signazon.com has been able to reengage former customers and is also increasing current customer retention. Spearheading this campaign is Alvin Jimenez, Signazon.com's new Director of Email Marketing. Jimenez had this to say about Signazon.com's new email campaign, "With the launch of Signazon.com's behavior-driven email marketing program, we can further build on our existing relationships with our customers. Signazon.com is all about service, and this is the same core value that customers will see in each and every piece of communication."
To find out more about Signazon.com's new email program, or to sign up for tips, spotlights and discount offers, visit http://www.signazon.com/newsletter-signup.aspx.
About Signazon.com
11969 Plano Rd, Ste 190
Dallas, TX 75243
1-800-518-1217
PR Contact: Jason.p(at)signazon(dot)com
Based in Dallas, TX and Boston, MA, Signazon.com is the top online business sign company. Different from a local sign shop, we have been deploying the very latest in e-commerce technologies, free template-based graphic design, and high-quality, full-color printing at cheap prices for car signs, vinyl banners, window signs, yard signs, oversized checks, canvas prints, offset printing and sign accessories since 2005.
###