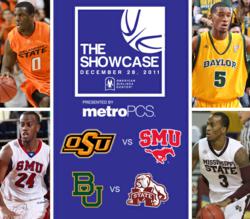 Though Signazon.com is predominantly an e-commerce company, we value our local Dallas market as well as Texas schools such as Baylor and SMU, so it made perfect sense for us to get involved with The Showcase. — Rick D., CEO, Signazon.com
Dallas, TX (PRWEB) December 21, 2011
Next Wednesday, December 28th, 2011, four college basketball teams are gathering for back-to-back games at the American Airlines Center in Dallas, TX, home of the reigning NBA champions, the Dallas Mavericks as well as the NHL's Dallas Stars. Starting at 5:30 P.M. CST, the Mustangs of Southern Methodist University (SMU) will take on the Oklahoma State Cowboys (OSU). Later, at 8:00 P.M. CST, the #6-ranked Baylor Bears will challenge the #17 Mississippi State Bulldogs. Sponsors for this event, which is titled "The Showcase," include MetroPCS, Nike, and Dallas signs company Signazon.com. A portion of each ticket sold to the event will benefit the Buckets and Boots Foundation, an organization founded to help Texas volunteer firefighters recover from the deadly wildfires which spread across the Lone Star State this past summer.
The Showcase is being planned by sports marketing and events planning firm Lagardère Unlimited, part of the French-based media conglomerate the Lagardère Group. This is the second time the annual event has been held. Last year, Texas A&M defeated Arkansas, and Gonzaga was victorious over Baylor. The Showcase makes use of the AAC while not occupied by the Mavericks and is a great way to feature two Texas teams, as well as nearby teams from Oklahoma and Mississippi, in a unique location. Since students are not in-session due to the Christmas holidays and many of the universities' alumni are located in the DFW Metroplex, over 12,000 people are expected to attend the double-header.
During the event planning process, Lagardère Unlimited sought a Dallas sign company to produce custom decals for the event to feature sponsors. Dallas-headquartered Signazon.com, a nationwide e-commerce business that produces custom signs and banners, has partnered with Lagardère Unlimited to promote The Showcase. Decals featuring the logos of Signazon.com, MetroPCS, and Nike will be used on the pole pads below each of the goals. Other decals and banners will also be used throughout the arena. "Lagardère Unlimited needed a company that could produce a highly-custom product quickly," says Rick D., CEO of Signazon.com, "and though Signazon.com is predominantly an e-commerce company, we value our local Dallas market as well as Texas schools such as Baylor and SMU, so it made perfect sense for us to get involved."
You can watch The Showcase on Wednesday, December 28th, 2011. SMU takes on Oklahoma State at 5:30 P.M. CST on ESPNU. Baylor vs. Mississippi State tips-off at 8:00 P.M. CST on ESPN2.
About Signazon.com
11969 Plano Rd, Ste 190
Dallas, TX 75243
1-800-518-1217
PR Contact: Jason.p(at)signazon(dot)com
Based in Dallas, TX and Boston, MA, Signazon.com is the top online business sign company. Different from a local sign shop, we have been deploying the very latest in e-commerce technologies, free template-based graphic design, and high-quality, full-color printing at cheap prices for car signs, vinyl banners, window signs, yard signs, oversized checks, canvas prints, offset printing and sign accessories since 2005.
Lagardère Unlimited is a division of the Lagardère Group dedicated to Sport and Entertainment. Lagardère Unlimited deploys its expertise in six complementary business lines: distribution of media rights; sale of sports rights and marketing products; production, organization and management of events; consulting in the management/operation of stadiums, sports grounds and show venues; representation of sports and arts/entertainment personalities; and management of sports training academies.
# # #