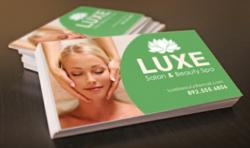 One of the key advantages of digital offset printing is the increased ability for customization...with Signazon's Marketing Materials...we can produce exactly what our customer requires at a price that matches their budget. —Rick D., CEO, Signazon.com
Dallas, TX (PRWEB) May 21, 2013
Custom signs company Signazon.com has recently released a variety of new products as well as overhauled existing product lines. The e-commerce company's newly-expanded line of Marketing Materials provides small and large businesses the opportunity to increase networking, improve brand awareness and reach new audiences. In addition, updates to the company's Vinyl Lettering product make it easier for businesses to order simple, classic messaging that stands out.
Thanks to significant investment in digital offset printing technology, Signazon.com's line of traditional "offset" printing products has expanded to include a full range of items for business owners. Calling this line "Marketing Materials," Signazon offers everything from custom business cards to promotional flyers and even invitations for personal events. Other specialized products like brochures, door hangers and refrigerator magnets complete the line. "One of the key advantages of digital offset printing is the increased ability for customization," says Rick D., CEO of Signazon.com, "with traditional offset, quantities must be high and sizes are limited. With Signazon's Marketing Materials, however, we can produce exactly what our customer requires at a price that matches their budget." Since the expansion of its Marketing Materials line earlier this year, Signazon has seen sales increase by over 200% from the previous year.
Another significant development at Signazon.com is the launch of a new online Vinyl Lettering designer. Customers looking to purchase die-cut vinyl letters for their vehicle, window or elsewhere are now able to create simple, one-color lettering that is sized exactly to their needs. Since vinyl lettering requires no printing and instead involves die-cutting of colored vinyl, the online ordering process has been streamlined and simplified. In addition, Signazon now offers a variety of premium, 3 mil colored vinyls from which customers can choose. "Our high-quality vinyl lettering is durable and professional-looking," says Rick D., "and customers using our new Vinyl Lettering designer will appreciate the ease and speed at which they can order their custom message."
With these new and modified products, Signazon.com's Spring 2013 season is sure to be a success. For more information about Signazon's new Marketing Materials and Vinyl Lettering designer, visit http://www.signazon.com.
About Signazon.com
11969 Plano Rd., Ste 190
Dallas, TX 75243
1-800-518-1217
PR Contact: Jason.p(at)signazon(dot)com
________________________________________
Signazon.com is the leading online company for custom business signs and banners. Signazon offers free template-based graphic design and high-quality, full-color digital printing, as well as nationwide distribution of magnetic signs, yard signs, marketing materials and more through its Dallas, TX and Boston, MA, production facilities.