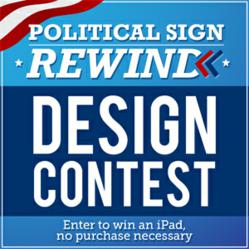 This contest is a great way to engage both our existing customers and potential new ones...by reflecting on our nation's past leaders, we can help determine what to look for in a future one. —Rick D., CEO, Signazon.com
Dallas, TX (PRWEB) October 24, 2012
With the presidential election just around the corner, e-commerce custom signs company Signazon.com is hosting a unique campaign-themed design contest, asking aspiring designers to submit their take on political yard signs that past presidents or presidential candidates would have used during their campaign. The "Political Sign Rewind" Design Contest & iPad Giveaway is available to anyone over the age of 13 within the United States.
The contest, which began on October 10th and will end on November 6th, 2012 (Election Day), is a unique way to educate the American public about U.S. history. Those who are looking to enter the contest must create an original design and upload it to the Signazon.com website. The winners of the "Political Sign Rewind" Design Contest will be chosen through a popular vote system, with voters having the potential to vote both for and against other entries. At the end of the contest, entries with the highest number of votes will win a variety of prizes (a new Apple iPad for the Grand Prize winner, an Apple iPod Touch for the Runner Up, and a $100 iTunes gift card for Third Place).
"This contest is a great way to engage both our existing customers and potential new ones in a unique and timely discussion that is relevant to the coming election," says Rick D., CEO of Signazon.com, "By reflecting on our nation's past leaders, we can help determine what to look for in a future one." Entries have already been received for a variety of presidents, from famous leaders like Abraham Lincoln to lesser-known political figures such as William Henry Harrison.
To learn more about Signazon.com's "Political Sign Rewind" Design Contest & iPad Giveaway, or to submit your own entry, visit http://www.signazon.com/contest/political-signs-ipad-2012/.
About Signazon.com
11969 Plano Rd, Ste 190
Dallas, TX 75243
1-800-518-1217
PR Contact: Jason.p(at)signazon(dot)com
________________________________________
Based in Dallas, TX and Boston, MA, Signazon.com is the top online business sign company. Different from a local sign shop, we have been deploying the very latest in e-commerce technologies, free template-based graphic design, and high-quality, full-color printing at cheap prices for political signs, car signs, vinyl banners, vinyl decals, window signs, yard signs, oversized checks, canvas prints, offset printing and sign accessories since 2005.