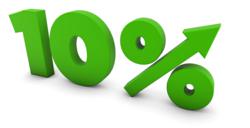 Our company-wide growth has allowed for continued investment in printing technology, which makes our Reseller Program all the more-appealing...we value and depend on our Resellers, which is why we're offering them more. —Rick D., CEO, Signazon.com
Dallas, TX (PRWEB) January 31, 2012
For Dallas, TX-based custom signs company Signazon.com, the year 2011 was a great one. Thanks to significant investment in printing technology and a 100% increase in revenue, the company is continuing to grow and expand. As a way of saying thank you to its customers, Signazon.com is announcing a significant increase in discounts available through its Reseller Program.
Established in 2009, the Signazon.com Reseller Program allows many of the company's primary clients, such as freelance graphic designers, design studios, marketing agencies, printing shops and copy centers, to purchase Signazon.com's products at a discount for resale to their end customers. Discount levels are determined based on the amount of potential sign sales volume per month the reseller will contribute. Resellers can purchase non-branded sample packages to show to customers, and Signazon.com also offers "blind" shipping directly to the end customer, so they will never know their vendor didn't actually produce the product.
Since the initial foundation of the Reseller Program, Signazon.com has seen a great response. As the company has continued to grow, the program has as well, and the natural next step is to increase discount levels. The Signazon.com Reseller Program is broken up into tiers, which include Bronze, Silver, Gold, Platinum and Diamond. The discount levels for these tiers have increased by 10% across the board. This means, for instance, that a Silver-level Reseller who used to receive 10% off at Signazon.com will now qualify for 20% off. Reseller levels are reviewed quarterly to determine whether each Reseller has contributed enough business to move up to the next level.
The goal of increasing the reseller discounts is to continue growth and participation in the program. "At Signazon.com, we pride ourselves on being at the forefront of the printing industry. Our company-wide growth has allowed for continued investment in printing technology, which makes our Reseller Program all the more-appealing for our clients," says Rick D., CEO of Signazon.com, "We can do things more-quickly and more-affordably than our Resellers can on their own, which is why they depend on us. At the same time, we value and depend on our Resellers, which is why we're offering them more."
To learn more about the Signazon.com Reseller Program, or to sign up yourself, visit http://www.signazon.com/reseller-program.aspx.
About Signazon.com
11969 Plano Rd, Ste 190
Dallas, TX 75243
1-800-518-1217
PR Contact: Jason(dot)p(at)signazon(dot)com
Based in Dallas, TX and Boston, MA, Signazon.com is the top online business sign company. Different from a local sign shop, we have been deploying the very latest in e-commerce technologies, free template-based graphic design, and high-quality, full-color printing at cheap prices for car magnets, vinyl banners, window signs, yard signs, oversized checks, canvas prints, offset printing and sign accessories since 2005.
###