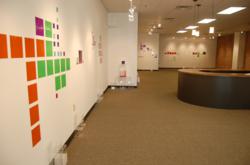 Novak's vision was realized at almost the eleventh hour as we discovered that the decals could be easily-manipulated and the surface shifted from the cubes to the walls. —Jordan Roth, Co-Director, Ro2 Art
Dallas, TX (PRWEB) May 24, 2012
Signazon.com, the nationwide e-commerce custom signs company, is announcing the release of its newest product: EZ-Stick Vinyl. This low-tack material is poised to become a Signazon best-seller, offering adhesive strength and also continued removability. To showcase this new material, Signazon.com worked with artist Shannon Novak on a unique installation entitled Acoustic Synergy, which is currently on display at the Ro2 Art Downtown Gallery in Dallas.
EZ-Stick Vinyl is a durable, flexible vinyl film coated with a special adhesive that is designed to have low tack and be removed cleanly, leaving no residue. The material is fully-weatherproof and has a stunning gloss finish, which makes it great for temporary outdoor advertising (on vehicles, doors, windows, etc.). EZ-Stick Vinyl is the second product in Signazon.com's EZ-Stick product line, joining the popular EZ-Stick Fabric material to offer customers a variety of reusable decals with adhesive. "One of the most-common needs our customers have is for products that can be displayed temporarily and removed easily," says Rick D., CEO of Signazon.com, "EZ-Stick Fabric has been a great success for us, so our Product Development Team decided to expand the line with a more-versatile and outdoor-friendly product. We expect EZ-Stick Vinyl to be a big hit with clients as well."
Just days after releasing EZ-Stick Vinyl, Signazon.com was contacted by Shannon Novak, a New Zealand-based artist looking for help with Acoustic Synergy, his latest art exhibit. Signazon and Novak first worked together on One Song, Three Composers, in Fall 2011, which has since been published in Novak's self-authored book sharing the same name. Whereas that installation used Signazon's popular Vinyl Decal Film material, for Acoustic Synergy, Novak decided the new, low tack decals would be a better option as the material can easily be removed after the exhibit ends.
The original creative concept for Acoustic Synergy involved placing a variety of brightly-colored decals onto clear plastic cubes, which would be displayed around a gallery, representing the interconnectedness of music and sound. Upon installing the cubes, however, the gallery found that their weight was too heavy to hang properly on the walls of the exhibit. The only way to install the show was to literally remove the EZ-Stick Vinyl decals from each cube and reapply them to the wall. Had Novak chosen a permanent vinyl or less-resilient substrate, the show could not have been installed. "Ultimately, Novak's vision was realized at almost the eleventh hour as we discovered that the decals could be easily-manipulated and the surface shifted from the cubes to the walls," says Jordan Roth, Co-Director of Ro2 Art.
To view Shannon Novak's exhibit Acoustic Synergy, visit Ro2 Art's Downtown Gallery at 1408 Elm Street, Dallas, TX, 75202. The exhibit ends June 23rd, 2012.
About Signazon.com
11969 Plano Rd, Ste 190
Dallas, TX 75243
1-800-518-1217
PR Contact: Jason(dot)p(at)signazon(dot)com
________________________________________
Based in Dallas, TX and Boston, MA, Signazon.com is the top online business sign company. Different from a local sign shop, we have been deploying the very latest in e-commerce technologies, free template-based graphic design, and high-quality, full-color printing at cheap prices for car magnets, vinyl banners, window decals, yard signs, oversized checks, canvas prints, offset printing and sign accessories since 2005.