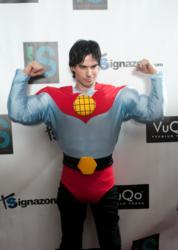 "Signazon.com's team was helpful, easy to work with and maintained the level of confidentiality that we appreciate when organizing high-profile media events." —Stephanie Lapensee, Development Coordinator, Ian Somerhalder Foundation
Atlanta, GA (PRWEB) November 03, 2011
Ian Somerhalder is using his celebrity status for the greater good. His non-profit organization, the Ian Somerhalder Foundation, recently held its first charity fundraiser, a Halloween costume party titled Empoweresque. Located at the beautiful Opera Nightclub on historic Peachtree St. in downtown Atlanta, Empoweresque offered guests ages 5 and up a chance to mingle with Somerhalder, star of the CW's hit show "The Vampire Diaries," as well as a variety of other VIP celebrities. Dressed as Captain Planet to support his environmental initiative, Ian welcomed guests with live entertainment, a Q&A session, an open vodka bar, and mystery prize giveaways. Event sponsors included custom signs company Signazon.com, VuQo Premium Vodka, H&M, Keurig/Green Mountain Coffee, Sephora, and many more. Proceeds from the event benefited the IS Foundation.
Established on December 8, 2010 (Somerhalder's 32nd birthday), the Ian Somerhalder Foundation is a non-profit organization which seeks to educate others about environmental protection, energy conservation and the reduction of cruelty to animals. The stance of ISF is that global problems are interconnected, thus it's important to enact change as a whole. One of the strongest pushes by the IS Foundation is to empower others to take a stand against these global problems, especially women and youth. Empoweresque sought to unite women and awaken a desire for change among them. Through ticket sales, a silent auction and sales of event photos, ISF raised funds to expand the reach of the foundation across the globe.
During the event planning process, the IS Foundation contacted Signazon.com about producing a step and repeat backdrop featuring the logos of primary sponsors, which would be used for photos taken at the event. Signazon.com, a nationwide e-commerce printing company based in Dallas, TX, worked with ISF to create the step and repeat and also help raise awareness for the event as a whole. "This was a unique opportunity for us to get involved with such a high-profile event," says Rick D., CEO of Signazon.com, "The IS Foundation needed a high-quality product that looked professional, and we were able to meet that need." Capitalizing on Somerhalder's popularity as well as that of his show, The Vampire Diaries, the IS Foundation and Signazon.com hosted a social media giveaway campaign through the Signazon.com Facebook page which awarded 10 Platinum-level tickets to Empoweresque to 5 lucky winners: Shahina Butler, Tamarin Gullett-Tyrrell, Morgan Jenkins, Stacy Geiger and Renee Carter.
Empoweresque was a tremendous success. Stephanie Lapensee, Development Coordinator for the Ian Somerhalder Foundation, stated, "Working with Signazon.com on our step and repeat backdrop for Empoweresque was a great experience. Signazon.com's team was helpful, easy to work with and maintained the level of confidentiality that we appreciate when organizing high-profile media events. We would certainly recommend Signazon.com for event printing and will be working with them in the future."
To find out more about the Ian Somerhalder Foundation, visit http://www.isfoundation.com.
About Signazon.com
11969 Plano Rd, Ste 190
Dallas, TX 75243
1-800-518-1217
PR Contact: Jason.p(at)signazon(dot)com
Based in Dallas, TX and Boston, MA, Signazon.com is the top online business sign company. Different from a local sign shop, we have been deploying the very latest in e-commerce technologies, free template-based graphic design, and high-quality, full-color printing at cheap prices for car signs, vinyl banners, vinyl decals, window signs, yard signs, oversized checks, canvas backdrops, offset printing and sign accessories since 2005.
The IS Foundation, founded by actor Ian Somerhalder, aims to empower, educate and collaborate with people and projects to positively impact the planet and its creatures. ISF participates in a variety of charitable campaigns, including distributing funds and resources towards global conservation; creating awareness about global deforestation; engaging, supporting and mobilizing youth; ending animal cruelty and supporting and creating sustainable strategies for "no-kill shelters".
###