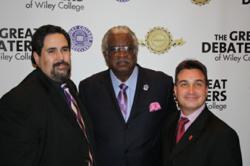 Working with Signazon.com has been great, and the visual aids are truly an excellent product. —Chris Medina, Director of Forensics, Wiley College
Marshall, TX (PRWEB) January 30, 2012
This past Friday, Wiley College held a reenactment of the historic 1935 debate in which Wiley prevailed over the University of Southern California. The original debate, which was featured in the 2007 Denzel Washington film "The Great Debaters," marked the first major debate between black and white students. Thanks to the success of the film and Washington's donation of $1,000,000 to Wiley College in 2008, the debate program, which had ceased to exist, was reinstated. Now, four years later, the program is still going strong. The rematch was part of Wiley's Ethical Student Leadership Conference. In preparation for the debate reenactment, the Wiley College debate team partnered with e-commerce custom signs company Signazon.com.
Chris Medina, Director of Forensics at Wiley College, originally chose Signazon.com because he was looking for durable, high-quality visual aids to use during debates that could withstand the team's rigorous travel schedule. Signazon.com determined exactly what was needed and created a unique, custom product for the Wiley team. Wiley first used the visual aids at the Bayou City Swing Speech and Debate Tournament in October 2011 in Kingwood. At the tournament, Cary Chavis, a Senior at Wiley College and the Debate Captain of the Melvin B. Tolson and Denzel Washington Forensics Society, was awarded a first place trophy in After Dinner Speaking.
Thanks to Chavis's success, the Wiley team is now using Signazon.com for all of its visual aids. According to Medina, "Working with Signazon.com has been great, and the visual aids are truly an excellent product. We are preparing for national championship season, so it's important that our students have the best visual aids possible."
Since the VA's have proven to be so successful, Medina also reached out to Signazon.com to create a step and repeat backdrop to be used at the debate reenactment. When the backdrop arrived at Wiley College, staff members were very impressed, so much so that two more backdrops were ordered for future events. Dr. Joseph Morale, Wiley's Vice President for Student Affairs and Enrollment Services, even stated that he is looking into making Signazon.com the official printer for Wiley College.
About Signazon.com
11969 Plano Rd, Ste 190
Dallas, TX 75243
1-800-518-1217
PR Contact: Jason.p(at)signazon(dot)com
Based in Dallas, TX and Boston, MA, Signazon.com is the top online business sign company. Different from a local sign shop, we have been deploying the very latest in e-commerce technologies, free template-based graphic design, and high-quality, full-color printing at cheap prices for car magnets, vinyl banners, window signs, yard signs, oversized checks, press backdrops, offset printing and sign accessories since 2005.
###