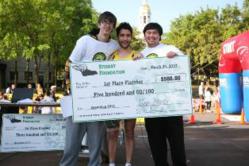 After running 13.1 miles, holding a giant check symbolizing a great time and a big win was the highlight of the race for our runners. –Lizzy Davis, Troy and Betty Mays Director of Baylor Student Foundation
Waco, TX (PRWEB) March 27, 2012
This past Saturday, March 24th, nearly 2,200 runners assembled on the Baylor University campus in Waco for the 10th annual Bearathon Half-Marathon & 5K. The Bearathon, which has earned the reputation as "The Toughest Half-Marathon in the State of Texas," is organized by the Baylor University Student Foundation, a student organization which assists Baylor with alumni relations, campus promotions and student recruitment. Some of this year's event sponsors include the Baylor Alumni Network, 101.3 Bob FM, Run Far Racing Services, HydraPouch and custom signs company Signazon.com.
In addition to the reputation for toughness set by the grueling hills of Cameron Park in Waco, the Bearathon has been a leader in the conversion to "green" racing. Instead of using wasteful paper cups during water stops, runners are encouraged to use a more-eco friendly, refillable HydraPouch. In addition, this year, Bearathon switched to "Virtual Race Bags." This change allows event sponsors to display an online advertisement that is distributed to all runners via email as opposed to the usual paper materials that are distributed on-site.
Proceeds from the Bearathon are used to fund student scholarships. Last year, Student Foundation contributed $238,000 in scholarships to Baylor students thanks to proceeds from Bearathon and other fundraising efforts.
The overall race winners (male and female) received $500, $400, and $300 for 1st, 2nd and 3rd place, respectively. In 1st Place was Luis Gutierrez (Male), with a time of 1:16:45.8, and Cate Westenhover (Female), with a time of 1:27:55.5. Second place finishers were Brandon Reed (Male) and Debbie Arzola (Female), with Jake Fisher (Male) and Katie Bork (Female) finishing in 3rd place overall. In addition, prizes ranging from $100 to $300 were awarded to 1st, 2nd and 3rd place male and female finishers in the Baylor Student category as well as the 40+ Open Bracket (Master's Division). Winners from the Baylor Student category included Grant Hall (1st Place Male), Jordan Shoesmith (2nd Place Male), and Jonathan Powers (3rd Place Male), as well as Samantha Allen (1st Place Female), Karolina Filipiak (2nd Place Female), and Janae Ketterlink (3rd Place Female). The Master's Division winners were Todd Copeland (1st Place Male), Lee Toowey (2nd Place Male), and James Michael (3rd Place Male), as well as Nancy Dasso (1st Place Female), Hilary Grant (2nd Place Female), and Becky Cunningham (3rd Place Female).
To present the race prizes, Baylor University Student Foundation worked with Dallas, TX-based e-commerce company Signazon.com to produce custom oversized checks featuring the Bearathon logo as well as the Student Foundation seal. These checks presented a unified, professional impression to all race attendees and helped recognize the significant achievement of the winning runners. As a nationwide leader in university signs and the online printing industry as a whole, Signazon.com was the perfect choice to work with Student Foundation and the Bearathon. Since Signazon.com was founded by a Baylor graduate and employs Baylor and Student Foundation alumni, the cause was a personal one for the Signazon team.
"Our prize winners loved taking a picture with the giant Signazon checks," says Lizzy Davis, Troy and Betty Mays Director of Baylor Student Foundation, "After running 13.1 miles, holding a giant check symbolizing a great time and a big win was the highlight of the race for our runners."
To learn more about Baylor Student Foundation or Bearathon, visit http://www.baylor.edu/student_foundation/.
About Signazon.com
11969 Plano Rd, Ste 190
Dallas, TX 75243
1-800-518-1217
PR Contact: Jason(dot)p(at)signazon(dot)com
Based in Dallas, TX and Boston, MA, Signazon.com is the top online business sign company. Different from a local sign shop, we have been deploying the very latest in e-commerce technologies, free template-based graphic design, and high-quality, full-color printing at cheap prices for car magnets, vinyl banners, window signs, yard signs, oversized checks, canvas prints, offset printing and sign accessories since 2005.