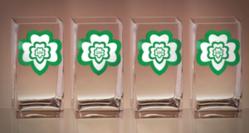 This year, I wanted to...create a memento for our 100th anniversary celebration. The vinyl stickers were a perfect solution...I explained my idea to Signazon and they made it happen in a matter of days. –Velma Brooks-Benson, Special Events Manager, GSGLA
Los Angeles, CA (PRWEB) April 11, 2012
As the Girl Scouts organization celebrates the 100th anniversary of its foundation in 1912, Girl Scouts Greater Los Angeles is preparing for the 2012 Annual Meeting & Volunteer Recognition (AMVR) Ceremony. The meeting will take place on Saturday, April 14th, 2012 at the Skirball Cultural Center in Los Angeles. Event supporters include Columbia Memorial Space Center, Pasadena Federal Credit Union and custom signs company Signazon.com.
Girl Scouts Greater Los Angeles was organized in December 2008 as the result of a merger of six Los Angeles-area Girl Scout councils. With over 23,000 volunteers serving more than 40,000 Girl Scouts in Los Angeles and the surrounding area, GSGLA is the largest girl-serving nonprofit agency in Los Angeles as of 2009. The council is currently in the middle of "50 in 5," a 5-year campaign launched in 2010 to grow membership to 50,000 girls.
The Annual Meeting & Volunteer Recognition Ceremony is an event in which members of GSGLA can convene to cast votes for the future of the organization and also recognize the dedicated service of volunteers. The AMVR agenda includes a message from the Board of Directors, a State of the Council report, Board member elections and recognition, and finally, volunteer recognition. Over 100 Girl Scout troop leaders, Service Unit team members and volunteers will be acknowledged for their tenure and dedicated service. To recognize these special members and add elegance to the event, Velma Brooks-Benson, Special Events Manager for GSGLA, contacted Dallas, TX-based e-commerce sign company Signazon.com. Brooks-Benson wanted to create a unique table centerpiece to be distributed to those recognized at the AMVR Ceremony. Her idea was to print die-cut decals displaying the Girl Scouts' 100th anniversary logo and place them on clear glass vases filled with flowers.
To offer its assistance, Signazon.com enrolled GSGLA in its Nonprofit Program, which seeks to build partnerships between the online sign company and qualifying nonprofit organizations. Since GSGLA has a frequent need for signage and prefers to establish long-term relationships with its vendors, Signazon.com's Nonprofit Program was the perfect solution. Regarding the vinyl decals for the 2012 AMVR Ceremony, Brooks-Benson had this to say, "This year, I wanted to do something a little different with the centerpieces and create a memento for our 100th anniversary celebration. The vinyl stickers were a perfect solution and replaced our idea of engraving each vase. I explained my idea to Signazon and they made it happen in a matter of days."
"We understand that non-profit organizations are often working with limited financial means, and we value those with such a storied history like the Girl Scouts," says Rick D., CEO of Signazon.com, "Our goal with the Signazon.com Nonprofit Program is to assist these groups with immediate needs but also build an ongoing business relationship."
To learn more about Girl Scouts Greater Los Angeles and how you can get involved, visit http://www.girlscoutsla.org.
About Signazon.com
11969 Plano Rd, Ste 190
Dallas, TX 75243
1-800-518-1217
PR Contact: Jason.p(at)signazon.com
________________________________________
Based in Dallas, TX and Boston, MA, Signazon.com is the top online business sign company. Different from a local sign shop, we have been deploying the very latest in e-commerce technologies, free template-based graphic design, and high-quality, full-color printing at cheap prices for car magnets, vinyl banners, window decals, yard signs, oversized checks, canvas prints, offset printing and sign accessories since 2005.