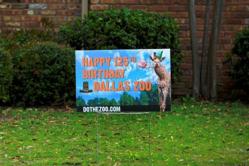 Signazon.com provided an excellent product with which we were able to share the fun of the Dallas Zoo's birthday with our community. —Karen Hamilton, Senior Vice President, Dallas Zoological Society
Dallas, TX (PRWEB) April 09, 2013
This past weekend, thousands gathered at the Dallas Zoo to celebrate its 125th birthday. With an exciting array of activities such as musical performances, storytelling and giveaways of custom yard signs produced by Dallas-based printing company Signazon.com, the birthday extravaganza was a highlight for both animal lovers and the city of Dallas itself.
Founded in 1888, the Dallas Zoo is the oldest zoo in the state of Texas, as well as the largest. Jointly managed by Dallas Zoo Management, Inc. and the Dallas Zoological Society, the Dallas Zoo has been experiencing record-setting attendance numbers over the past few years, due in part to the opening of new exhibits such as Giants of the Savanna, which holds elephants, giraffe, lions, cheetahs, warthogs and more.
To celebrate its birthday in style, the Dallas Zoo organized a 2-day event for zoo attendees on April 6th and 7th, offering guests unique ways to interact with the zoo and its animals. From book signings highlighting the history of the Dallas Zoo to a birthday cake-cutting ceremony featuring a cake from local bakery Dallas Affaires and even special birthday treat presentations for the zoo's animals, the occasion was truly unforgettable.
As a way to remember the excitement and fun of celebrating the zoo's historic 125 years, the first 500 families who attended the birthday festivities each day received yard signs wishing the zoo a Happy Birthday, which can be placed in front of their homes. Karen Hamilton, Senior Vice President, Dallas Zoological Society, selected e-commerce company Signazon.com, whose corporate headquarters is located in Dallas, to produce the custom signs for the event. "For the Dallas Zoo's 125th birthday, we pulled out all the stops to celebrate! We were excited to include yard signs produced by Signazon.com as an important part of our grass-roots marketing effort. Signazon.com provided an excellent product with which we were able to share the fun of the Dallas Zoo's birthday with our community," said Hamilton.
With a storied history and a future that looks bright, the Dallas Zoo now plans continued expansion. The DZM and Society Boards are now looking to add a new education center as well as renovate exhibits such as Wilds of Africa and ZooNorth, one of the older sections of the park. To learn more about the Dallas Zoo, visit http://www.dallaszoo.com.
About Signazon.com
11969 Plano Rd., Ste 190
Dallas, TX 75243
1-800-518-1217
PR Contact: Jason.p(at)signazon(dot)com
________________________________________
Based in Dallas, TX and Boston, MA, Signazon.com is the top online business sign company. Different from a local sign shop, we have been deploying the very latest in e-commerce technologies, free template-based graphic design, and high-quality, full-color printing at cheap prices for Dallas signs, vinyl banners, window signs, yard signs, magnetic signs, oversized checks, canvas prints, offset printing and sign accessories since 2005.