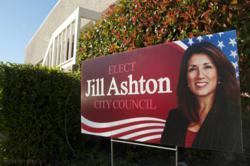 "Our customers are looking for a great-quality product, but at the same time we have to be conscious of their financial constraints. We want customers to know that inexpensive signage doesn't have to look cheap."
—Rick D., CEO, Signazon.com
Dallas, TX (PRWEB) November 30, 2011
Just in time for the holiday season, online printing company Signazon.com is announcing a significant drop in the prices of its yard signs. Depending on the size and quantity ordered, Signazon.com customers will now pay 50-80% less than before, especially for higher-volume orders. As businesses around the country ramp up marketing investments to attract holiday shoppers, advertising with yard signs is a potentially-lucrative strategy for many small business owners. In addition, with the coming 2012 political election season, political yard signs will be an important way for candidates to promote their campaigns.
Founded in 2005, Signazon.com is a leader in the e-commerce sign printing industry. With nationwide shipping and fast production, Signazon.com offers completely custom signs in as little as one business day (with the correct production and shipping options). Signazon.com has always offered high-resolution, full-color custom printing; however, having recently made a significant investment in digital printing equipment, the Dallas, TX-based company can now offer this superior-quality product for a price that is comparable to most companies' 1-color or 2-color printing processes.
In addition to a substantially-lower price, Signazon.com has also launched the Product Pricing Matrix. In an effort to simplify the online ordering process, the new pricing matrix, which is available on Signazon.com's high-volume yard sign product pages, helps customers take advantage of the company's custom sizes and continuous quantity discounts. When a customer who is looking to order yard signs in bulk visits Signazon.com, they can instantly see the prices for a variety of size and quantity combinations and select which one best fits their budget. "Our customers are looking for a great-quality product," says Rick D., CEO of Signazon.com, "but at the same time we have to be conscious of their financial constraints. We want customers to know that inexpensive signage doesn't have to look cheap."
Using Signazon.com's online design tool and a variety of fully-editable templates, customers can create personalized yard signs in minutes. Yard sign material options include corrugated plastic, aluminum, and Ultra Metal—a high-strength material composed of two sheets of aluminum with a solid PVC core. Other products offered by the company include vinyl banners, car magnets, oversized checks and window decals.
About Signazon.com
11969 Plano Rd, Ste 190
Dallas, TX 75243
1-800-518-1217
PR Contact: Jason(dot)p(at)signazon(dot)com
Based in Dallas, TX and Boston, MA, Signazon.com is the top online business sign company. Different from a local sign shop, we have been deploying the very latest in e-commerce technologies, free template-based graphic design, and high-quality, full-color printing at cheap prices for car signs, vinyl banners, vinyl decals, window signs, custom yard signs, oversized checks, canvas prints, offset printing and sign accessories since 2005.
###