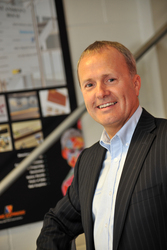 When I first said that I was interested in opening my own business, a lot of people thought that it was quite a risk investing in a new venture; especially when the country is in recession
(PRWeb UK) March 18, 2010
Graham is the latest franchisee to join the 80-strong Signs Express network, having worked for Macfarlane Group PLC for over 30 years and leaving as a member of its board of directors last year. Graham had reached a point in his career where he wanted to utilise his skills and knowledge to run his own business.
The value of the Glasgow franchise resale is the most in Signs Express' long history - over three times the highest price of a sale - which is testament to the strength and size of the business and its extensive machinery and loyal customer base. High quality and excellent customer service are instilled throughout all staff and Graham is relishing the opportunity to continue this and grow even further.
"When I first said that I was interested in opening my own business, a lot of people thought that it was quite a risk investing in a new venture; especially when the country is in recession," he commented. "However, I wasn't looking at a stand-alone business. I'd researched my options and found that by choosing a franchise I could step into managing my own company with the added comfort of a tried and tested business model and support network on hand when needed."
After finding the right industry, another of Graham's main criteria was to find a business which was close to his family. So when he discovered that the husband and wife team at Signs Express (Glasgow) would consider selling, it seemed like an ideal opportunity. "Taking over an already established centre was more appealing because of the comfort of having an experienced team and a ready-made customer base. This ensured that I was able to manage the business from day one and concentrate on learning about the business whilst not having to worry about building it from scratch. Although the centre was already successful, I could still see potential for growth."
Speaking of the change in ownership, sales and marketing director Tony Marsh said: "We are thrilled that Graham has come on board with us but also very sad to see Neil & Carol Fraser, our outgoing franchisees, move to pastures new. They were recently rewarded for their efforts in a presentation which recognised them reaching over £5m invoiced sales. Couple this with the raft of awards they have received over their history and their excellent product portfolio it's easy to see the impact they have had on the network."
Signs Express (Glasgow) is one of three existing centres to be under new ownership. Glenn and Danny Pickersgill have also recently taken over Signs Express (South Durham) along with new owners Neil Fisher and Mark Kendall at Signs Express (Southampton). A brand new franchise has also opened in Derrylin, Northern Ireland.
Signs Express will be exhibiting at the British & International Franchise Exhibition on stand H50 at the Olympia, London on 19th-20th March 2010.
Note for editors:
1. For further press information, please contact Sarah Critoph at Signs Express. Tel 01603 625925 or email sarah.critoph(at)signsexpress(dot)co(dot)uk.
2. Signs Express is a member of the British Sign and Graphic Association, the British Franchise Association and The International Signs Association
3. Caption: New franchisee Graham Casey
###