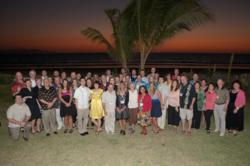 The Signtronix Jamboree is more of a celebration than a meeting.
Torrance, CA (PRWEB) April 30, 2012
Signtronix, the largest sign company for small businesses across America, announces their annual Jamboree meeting taking place June 1st and 2nd, 2012 in Chicago, Illinois. This year's Jamboree theme is "Workin' to Windy City" and promises to be much bigger and better than all previous Jamborees.
"The Signtronix Jamboree is more of a celebration than a meeting," says Tom Johnson Jr., Director of Marketing for Signtronix. "It's a time for our entire Signtronix family from across the country to come together to celebrate our successes and learn from each other for our continued growth."
"I love attending the Jamboree each year," says Tom Johnson, president of Signtronix. "It's a fantastic time for our people to gather together and learn from the presentations made throughout the Jamboree, but it's also a time to celebrate and be thankful for this tremendous company and the quality people within."
The Signtronix Jamboree schedule contains large group presentations, small group breakouts, open forums and a number of other learning opportunities for the attendees of the meeting. But there is also much fun to be had with the contests and balloon pops available for the Signtronix team to earn valuable prizes.
About Signtronix
Signtronix (http://www.signtronix.com) is the premiere sign manufacturer for small businesses across the United States. The company was founded in 1959 and has helped over half a million customers in its 50 year history. Signtronix offers many different sign products from outdoor electric signs, LED messages signs and indoor and window signs to help America's small businesses get the exposure they need to their passing public and potential customers. Signtronix is proud to be an ESOP (employee stock ownership plan) company which is owned and operated by its employees. If you wish to view Signtronix on Facebook then visit http://www.facebook.com/signtronix or you can join us on Twitter at http://www.twitter.com/signtronix.
To learn more about Signtronix please contact Tom Johnson Jr. at trj2(at)signtronix(dot)com.
Recent PRWeb Press Releases:
Signtronix Rewards Almost $100,000 to Cash Awards Referral Participants