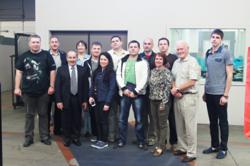 Being able to share our facility with sign companies from another country was a gratifying experience
Torrance, California (PRWEB) April 17, 2013
Signtronix, the country's leading manufacturer of signs for small business, hosted six of Ukraine's largest sign companies to exchange ideas and educate them about the Signtronix sign manufacturing and distribution processes.
Representatives from Art Piramida, Riviera, Elephant Ltd., and Bit Line Advertising Solutions and two other Ukrainian sign companies first visited the International Sign Association's largest sign convention, Sign Expo, in Las Vegas then wanted to tour a large American sign company.
Yuri Grebennikov, leader of the Ukraine sign association, contacted Brad Walker of the California Sign Association requesting a tour of a well-respected sign manufacturing facility. Brad contacted Tom Johnson of Signtronix and asked that Signtronix host the Ukraine delegation to a factory tour of their facilities.
A total of 15 people from the Ukrainian delegation arrived for a 3 hour tour of the Signtronix facility. They were very excited and anxious to see what an American sign facility might look like and were very impressed with the entire operation.
Tom Johnson, President of Signtronix said, "It was difficult to keep all 15 of them together during the tour. They wanted to look at every machine, every production process and every detail of every product. Their cameras were constantly flashing! Luckily, they had 2 people that were able translate their many queries."
"We had one of our professional photographers photograph the entire tour. We then made a complete photo book of their tour to take back home with them. They were all very appreciative and left with big smiles from ear to ear," said Johnson.
"Being able to share our facility with sign companies from another country was a gratifying experience. All our employees showed their pride of workmanship and were just as excited as our guests," said Tom Boren, CEO of Signtronix.
About Signtronix
Signtronix (http://www.signtronix.com) is the premiere sign manufacturer for small businesses across the United States. The company was founded in 1959 and has helped over half a million customers in its 50 year history. Signtronix offers many different sign products from outdoor electric signs, LED messages signs and indoor and window signs to help America's small businesses get the exposure they need to their passing public and potential customers. Signtronix is proud to be an ESOP (employee stock ownership plan) company which is owned and operated by its employees. Join Signtronix on Facebook at http://www.facebook.com/signtronix or join us on Twitter at http://www.twitter.com/signtronix.