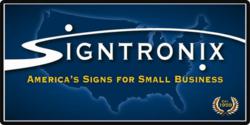 We are in the position to hire hundreds of people for these open positions immediately
Torrance, California (PRWEB) July 30, 2012
Signtronix, the largest sign company for small businesses across America, announces their plan for aggressive growth as they are currently hiring in 57 cities throughout 30 states across the country.
Signtronix is hiring Outside Sales Representatives for 57 of their regional offices across the country. "We are hiring for sales representatives for most of our regional offices across America in order to better reach out and contact the small business owners across the country. We want to tell them about – and show them - our sign products that will help them grow their businesses by gaining more exposure to the thousands of people who pass their business every day," said Tom Johnson Jr., Director of Marketing for Signtronix.
"We feel we are doing our part in helping our economy woes twofold: 1) we are in the position to hire hundreds of people for these open positions immediately – hence helping the unemployment issue and 2) our products have been proven to help our customers gain new customers and grow their revenue. Many times they've seen a 20% to over 100% increase in business in a very short time frame," said Tom Johnson, President of Signtronix.
The unemployment rate was 8.2% in the United States as of June 2012 according to the Bureau of Labor Statistics.
The Signtronix sales positions can be seen on Monster.com and anyone can apply through those job postings. Also, more detail about what the position entails can be found on the Signtronix career website at http://www.SigntronixCareers.com. Interested candidates can also apply through the Signtronix career website.
"This is truly an outstanding opportunity for anyone who is willing to work hard and wants to make the kind of money THEY think they are worth – not what the company they work for thinks they are worth. That's the beauty of our sales position," said Johnson.
About Signtronix
Signtronix is the premiere sign manufacturer for small businesses across the United States. The company was founded in 1959 and has helped over half a million customers in its 50 year history. Signtronix offers many different sign products from outdoor electric signs, LED messages signs and indoor and window signs to help America's small businesses get the exposure they need to their passing public and potential customers. Signtronix is proud to be an ESOP (employee stock ownership plan) company which is owned and operated by its employees. If you wish to view Signtronix on Facebook then visit http://www.facebook.com/signtronix or you can join us on Twitter at http://www.twitter.com/signtronix.