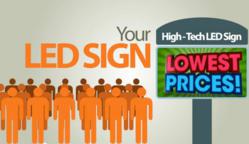 Great content is essential for an LED sign - Customers respond to messages they are able to see quickly and identify with immediately
Torrance, CA (PRWEB) October 30, 2012
Signtronix, the largest sign company for small businesses across America, announced they are providing free access to LED sign content for a full year when a customer purchases one of their tri color LED message signs. The online content provider, LEDSignStudio.com, has thousands of different animations, images and graphic messages for many different sizes of LED signs from monochrome to full color.
LEDSignStudio.com (http://www.LEDSignStudio.com) is the largest online provider of LED sign content of its kind – having only launched in the last year. It has thousands of pieces of content for many types and sizes of LED signs. Anyone with a monochrome, tri color or full color sign can take advantage of LEDSignStudio.com.
"Good content is essential for an electronic message sign (or LED sign). Customers respond to messages they are able to see quickly and identify with immediately. Many business owners are great at what they do – but most do not have the experience to create the content they want for their business sign. That's why we've come up with a solution and given our customers access to one of the largest collections of content for LED signs." Said Tom Johnson Jr., Director of Marketing for Signtronix.
"If for some reason you can't find your size matrix (the height and width of the LED pixel configuration on the sign) or the exact type of animation you're looking for, LEDSignStudio.com has custom content creation services so you can ask them for a specific size or image or animation and they will create it for you." Said Tom Johnson Jr., Director of Marketing for Signtronix.
"We are happy to provide such an invaluable service to our customers which will allow them to simultaneously SAVE and MAKE money at the same time!" said Tom Johnson Jr.
To learn more about the LEDSignStudio service please visit http://www.LEDSignStudio.com .
About Signtronix
Signtronix (http://www.signtronix.com) is the premiere sign manufacturer for small businesses across the United States. The company was founded in 1959 and has helped over half a million customers in its 50 year history. Signtronix offers many different sign products from outdoor electric signs, LED messages signs and indoor and window signs to help America's small businesses get the exposure they need to their passing public and potential customers. Signtronix is proud to be an ESOP (employee stock ownership plan) company which is owned and operated by its employees. If you wish to view Signtronix on Facebook then visit http://www.facebook.com/signtronix or you can join us on Twitter at http://www.twitter.com/signtronix.