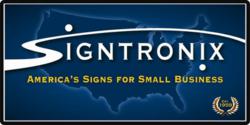 Nothing gives me more joy in my career than seeing one of my customers grow and flourish because of one of the Signtronix signs I help them design
Torrance, CA (PRWEB) November 29, 2012
Signtronix, the largest sign company for small businesses across America, has opened a new regional office in Cincinnati, Ohio, which will be headed by Regional Manager Richard Houston.
Moving from the Signtronix regional office in Tulsa, Oklahoma Richard is excited to be able connect with the small business community of Cincinnati. "I've been with Signtronix for 20 years and was privileged to help almost a thousand small businesses with their storefront marketing and signage needs. I am excited to have the chance to speak to the small business community in Cincinnati to help them as well," said Richard Houston.
"Nothing gives me more joy in my career than seeing one of my customers grow and flourish because of one of the Signtronix signs I help them design," says Houston. "The small business community plays such an integral part in our economy and I'm very proud to say that I've helped play a small part by giving the boost many businesses needed simply because of the new sign they got from Signtronix."
Tom Johnson, President of Signtronix said of Richard, "Richard has been a fantastic part of Signtronix for almost 20 years and we've seen amazing things from him. His passion for helping his customers and getting small business owners to really understand the value of signage are just two of many reasons why he's been so successful with us for so many years."
The Cincinnati office is now open and available to set appointments to speak with one of our sign professionals. Businesses in need of signage in the metro and surrounding areas of Cincinnati please call (800) 729-4853 and we will be glad to help you improve your business image and revenues with a beautiful new sign.
About Signtronix
Signtronix (http://www.signtronix.com) is the premiere sign manufacturer for small businesses across the United States. The company was founded in 1959 and has helped over half a million customers in its 50 year history. Signtronix offers many different sign products from outdoor electric signs, LED messages signs and indoor and window signs to help America's small businesses get the exposure they need. Signtronix is proud to be an ESOP (employee stock ownership plan) company which is owned and operated by its employees. If you wish to view Signtronix on Facebook then visit http://www.facebook.com/signtronix or you can join us on Twitter at http://www.twitter.com/signtronix.