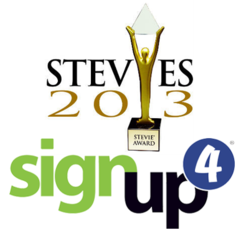 We are more than thrilled to be named Sales Department of the Year in Computer Software.
Atlanta, GA (PRWEB) February 27, 2013
SignUp4, a leading provider of event management software solutions, announced they have won two Awards at the 7th Annual Stevie Awards Ceremony for Sales and Customer Service. The Sales team won Silver placement for Sales Department of the Year in Computer Software and Customer Service won Bronze in Best Use of Technology with their integration of the SignUp4 User Community.
The awards were presented during ceremonies at the Paris Las Vegas Hotel on February 25, 2013. Stevie Awards categories included Sales Department of the Year, Customer Service Department of the Year and Innovation in Sales to name a few. More than 1,100 entries from organizations of all sizes and in virtually every industry were submitted for consideration.
"We are more than thrilled to be named Sales Department of the Year in Computer Software," said Matt Hodge, Vice President of Sales. "SignUp4's team has made significant strides to constantly improve our technology enabling industry professional to maximize their event potential and ROI. Such functionality is required in an environment where our clients are expected to do more with less."
More than 200 executives across the country participated in the judging process to determine the Finalists and Stevie Award winners.
SignUp4's User Community has driven great success for customers and the Client Services team. The interactive and ever-changing knowledgebase allows unprecedented access to information in real-time assisted by a network of people with solutions. "By utilizing the collective knowledge of our customers and employees, we can communicate best practices and receive feedback faster than ever before," said Doug Wetzel, Co-Founder and Vice President of New Product Engineering at SignUp4. "Interestingly, we have found that ongoing conversations in the online User Community provide a very real place for understanding and solving a host of questions. The participation from all groups has been fantastic."
About SignUp4
SignUp4 is the innovative meetings intelligence provider offering the highest quality event management and strategic meetings management solutions with an affordable unlimited usage model. Founded in 1999 and backed by an experienced team of technology and event management experts, we are driven by a single objective- to design, develop, deliver, and support the most reliable, cost-effective event management tools. To ensure we meet the needs of our clients and the demands of the evolving meetings industry, we develop new features and functionality every 6 weeks, on average producing over 1,000 updates annually. The goal of SignUp4's meetings intelligence is to streamline workflows, simplify and drive registrations, efficiently manage travel logistics, improve communications, and provide visibility into meeting spend for leveraging contract negotiations and increasing ROI. With over a decade of experience, 3,200 users and over 80 of the Fortune 500, we understand the value of your time and events.