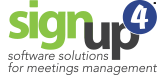 To ease some concerns that have been expressed, I am also proud to say we accomplished this with no off-shore outsourcing
Atlanta, Georgia (PRWEB) March 17, 2015
SignUp4, a leading event management software provider, is pleased to announce their much anticipated new application support hours.
One of SignUp4's core values is continuous improvement. After receiving client feedback of the need for longer support hours, the Application Support team ensured they could deliver the quality care clients deserve and developed their 24/7 support offering.
"We are never satisfied with the status quo and will always look ways to improve and add value for our clients. The need for 24/7 support has been heard loud and clear; however I wanted to make sure this service was provided in the quality expected from SignUp4 Application Support. After a long period of planning and evaluating options, I am very happy to report SignUp4 Application Support is now available. To ease some concerns that have been expressed, I am also proud to say we accomplished this with no off-shore outsourcing," stated Jamie Stannard, VP of Client Care at SignUp4.
Starting immediately, any client communicating with support via email or live chat will be connected with a support representative, within the Atlanta office, that is trained to answer SignUp4 questions.
Stannard added, "As we continue to look for ways to improve I would welcome any feedback you have regarding our support as well as training and implementation. Everyone in Client Care is committed to provide you with the support you need to excel in your job."
About SignUp4
SignUp4 is the innovative meetings intelligence provider offering the highest quality strategic meetings management solutions with an affordable unlimited usage model. The goal of SignUp4′s meetings intelligence suite is to streamline workflows, simplify and drive registrations, efficiently manage travel logistics, improve communications, and provide visibility into meeting spend for leveraging contract negotiations and increasing ROI. With over a decade of experience, 3,500 users and over 80 of the Fortune 500, we understand the value of your time and events. Learn more at http://www.signup4.com follow us @SignUp4.