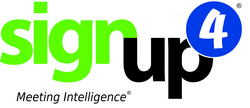 As with all of our products, the ease of use continues to be superior; and we are excited to be able to meet the needs of our current and potential clients with increased functionality while still maintaining our flat-fee pricing model
Atlanta, GA (PRWEB) March 30, 2011
SignUp4, LLC, a leading provider of strategic meetings management software solutions, announced they have launched a Group Registration Tool for their cornerstone product, the SignUp4 Event Management System (EMS). The functionality of the new tool includes group registration and group payments (via CartPay).
The SignUp4 Group Registration Tool allows attendees to register multiple people in a single registration form. The tool also allows for payment of multiple attendees at one time within a single registration. Within Group Registration, the CartPay function allows users to set up their events to allow deposits and multiple payments from attendees.
"With the increased functionality of EMS, our users are now able to better manage their events through Group Registration and CartPay. As with all of our products, the ease of use continues to be superior; and we are excited to be able to meet the needs of our current and potential clients with increased functionality while still maintaining our flat-fee pricing model. This scenario is definitely a win-win for all of our clients, current and future," said Matthew Hodge, Vice President of Sales.
About SignUp4
Founded in 1999, SignUp4, LLC has built a strong team of experienced software technology and meetings management experts driven by a single objective – to design, develop and deliver cost effective meetings management solutions for corporate meeting planners, travel planners and events management agencies. Through open and collaborative working relationships with its customers and industry leading partnerships that fuel continuous product innovations and services upgrades, SignUp4 enables customers to change the way they manage their evolving strategic meetings management needs. More information is available at http://www.SignUp4.com.
# # #