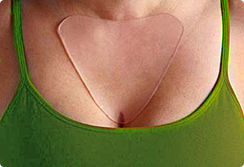 The Decollette pad helps with the collagen in this area giving you healthier wrinkle free skin.
Sherman Oaks, CA (PRWEB) August 22, 2012
Emmy Award winning makeup-up artist Camille Calvet of Calvet Cosmetics has launched a new brand of anti-aging products called SilcSkin. SilcSkin products are made 100% clear medical grade reusable silicone pads that are comfortably worn while sleeping. These pads help soften lines and wrinkles leaving skin youthfully rejuvenated.
With over 25 years of experience in the makeup industry, Calvet has worked with some of the biggest movie stars such as Cameron Diaz, Penelope Cruz, and Jennifer Aniston. One prevalent issue for women that arises is hiding wrinkles around the décolletage (chest area). These chest wrinkles, also known as cleavage wrinkles, can be caused by sun damage, sleeping on one's side and gravity. Calvet states, "If a scene called for a movie star to be in a bikini or a low cut dress, I had my hands full trying to get rid of these wrinkles." As a special effects makeup artist, Calvet worked extensively with silicone and discovered the healing and softening properties when applied on scars. "With some research, I found that Silicone gel sheeting was being used to heal Keloid scarring. I wondered if I could use silicone to treat wrinkles as effectively," says Calvet.
By discovering the benefits of silicone on the skin, Calvet developed the Decollette pad into a successful anti-aging and cosmetic surgery alternative. The Decollette pad is featured in Dr. Drew Ordon's latest book, Better in 7. Dr. Ordon is an acclaimed surgeon in the areas of aesthetic, plastic and reconstructive surgery. He is also known for his role on the hit show "The Doctors" which recently aired May 15th a segment on the benefits of the SilcSkin Decollette Pads. Dr. Ordon indicated that using the Decollette pad "helps with the collagen in this area giving you healthier wrinkle free skin".
With the success of the Decollette Pad, Calvet began to experiment with using the silicone pads on the face. Calvet discovered similar results in the reduction of fine lines so she moved forward in developing the product. "SilcSkin Facial Pads are designed for people who either can't use injectables, or do not want to... as a surprising twist, the pads actually improve the longevity of injectables if you do have them." SilcSkin Facial Pads are for the brow, eye and mouth areas of the face; giving individuals simple and economic alternatives to cosmetic surgery.
You can find SilcSkin products in over 175 U.S. locations and through representative in; Australia, Brazil, Canada, England, Germany, Italy, New Zealand, Nigeria, Spain, South Africa and Switzerland. Calvet acclaims her success to its ease of use and low cost compared to cosmetic surgery. Each pad adheres to the skin comfortably to the targeted area overnight and is reusable for 30 days.
To view the televised broadcast of The Doctors, please visit http://www.thedoctorstv.com/main/show_synopsis/1029.
Learn more about Calvet Cosmetics and Silcskin, vist http://www.silcskin.com or call (818) 915-2264. You can also follow SilcSkin on Facebook at http://www.facebook.com/silcskin and Twitter at http://www.twitter.com/silcskin.