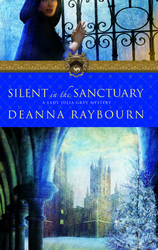 New York (PRWEB) January 10, 2008
Deanna Raybourn, author of 'Silent in the Sanctuary,' the latest novel featuring Victorian sleuth Lady Julia Grey, will be making a series of special interactive appearances in the 3D virtual world of Second Life throughout January. Raybourn's latest, the sequel to the critically acclaimed novel 'Silent in the Grave,' will further captivate fans of Victorian murder mystery through events that will immerse readers in the novel via a program of fully interactive online promotion in the virtual world of Second Life, including live readings, question and answer sessions with the author, virtual costume balls and fashion contests and other fully interactive events.
Since the release of 'Silent in the Grave' in early 2007, author Raybourn has received critical acclaim and widespread reader excitement for her captivating writing style and for her mixture of Victorian mystery and romance. Her latest release builds further on these strong themes, as her main character, Lady Julia Grey, is thrust into situations of romance, murder mystery, and intrigue.
The book's publisher, Mira Books, is utilizing the uniquely interactive features of Second Life to bring the excitement of the latest Lady Julia Grey mystery to a newly interactive level with new and existing readers. Residents of the popular virtual world will be invited to public question and answer periods with the author, the first of which will take place this Thursday, January 10 at 5PM "Second Life Time" (PST) at a custom-built venue at the ACTIV8 Resort Complex that simulates key settings from the novel. Unlike real-world author book readings, the Second Life book event will allow for fans from all over the world to interact simultaneously with the author and other devotees.
In addition to live question and answer opportunities, book aficionados and Victorian enthusiasts can participate in the upcoming Victorian Ball, to be held on Thursday, January 24th at the ACTIV8 complex. The overall aim of the Second Life promotional campaign is to bring new and existing readers of Raybourn's novels and fans of Victoriana together in an environment that allows for community interaction with the author, while immersing attendees in the world of the novel.
Harlequin's hosting the event in Second Life is a natural fit since the publisher continues to seek innovative means to reach out to readers and because 'Silent in the Sanctuary' is a novel set in the Victorian era, which is very popular with Second Life residents.
Second Life marketing agency Moderne Interactive is handling all of the technical and marketing aspects of the program, including re-creating several key creative features of the book's setting and plot items.
About MIRA Books
MIRA Books™ is Harlequin Enterprises' mainstream women's fiction imprint. Featuring a lineup of some of the bestselling authors across North America, MIRA Books is committed to publishing the very best in commercial fiction, from historical and contemporary romance to suspense and psychological thrillers. In 2006, 38 MIRA Books titles placed on bestseller lists (New York Times, USA TODAY and Publishers Weekly). MIRA Books currently publishes more than 100 books per year in hardcover, mass-market and trade paperback formats. Please see the MIRA Books Web site--http://www.MIRABooks.com--for more information.
About Harlequin Enterprises Limited
Harlequin Enterprises Limited is the global leader in series romance and one of the world's leading publishers of women's fiction, with titles issued worldwide in 26 languages and sold in 109 international markets. The company produces 120 titles monthly and publishes more than 1,300 authors from around the world. Harlequin Enterprises Limited is a wholly owned subsidiary of Torstar Corporation, a broadly based media company listed on the Toronto Stock Exchange (TS.B). Harlequin's Web site is located at http://www.eHarlequin.com. Harlequin has offices in 18 countries, including offices in Toronto, New York and London. For more information please visit http://www.eHarlequin.com or press.eHarlequin.com.
About Moderne Interactive
Moderne Interactive is a digital, web 2.0 and virtual worlds agency with its roots in the real world. As an operating unit of Moderne Communications, the interactive shop's focus is on leveraging web technologies and virtual worlds, including Second Life, for maximum ROI online and off. All of Moderne's digital programs, including online branded experiences, social media solutions and campaign microsites, integrate effectively with real world strategies to produce powerful results. These fully integrated brand experiences are the key to creating lasting impressions and relationships with discerning consumers of the 21st century. For more information, please see: http://www.ModerneCommunications.com/interactive
###